A tale of two 95s
A tale of two 95s
By John LaBarbera / ADOT Communications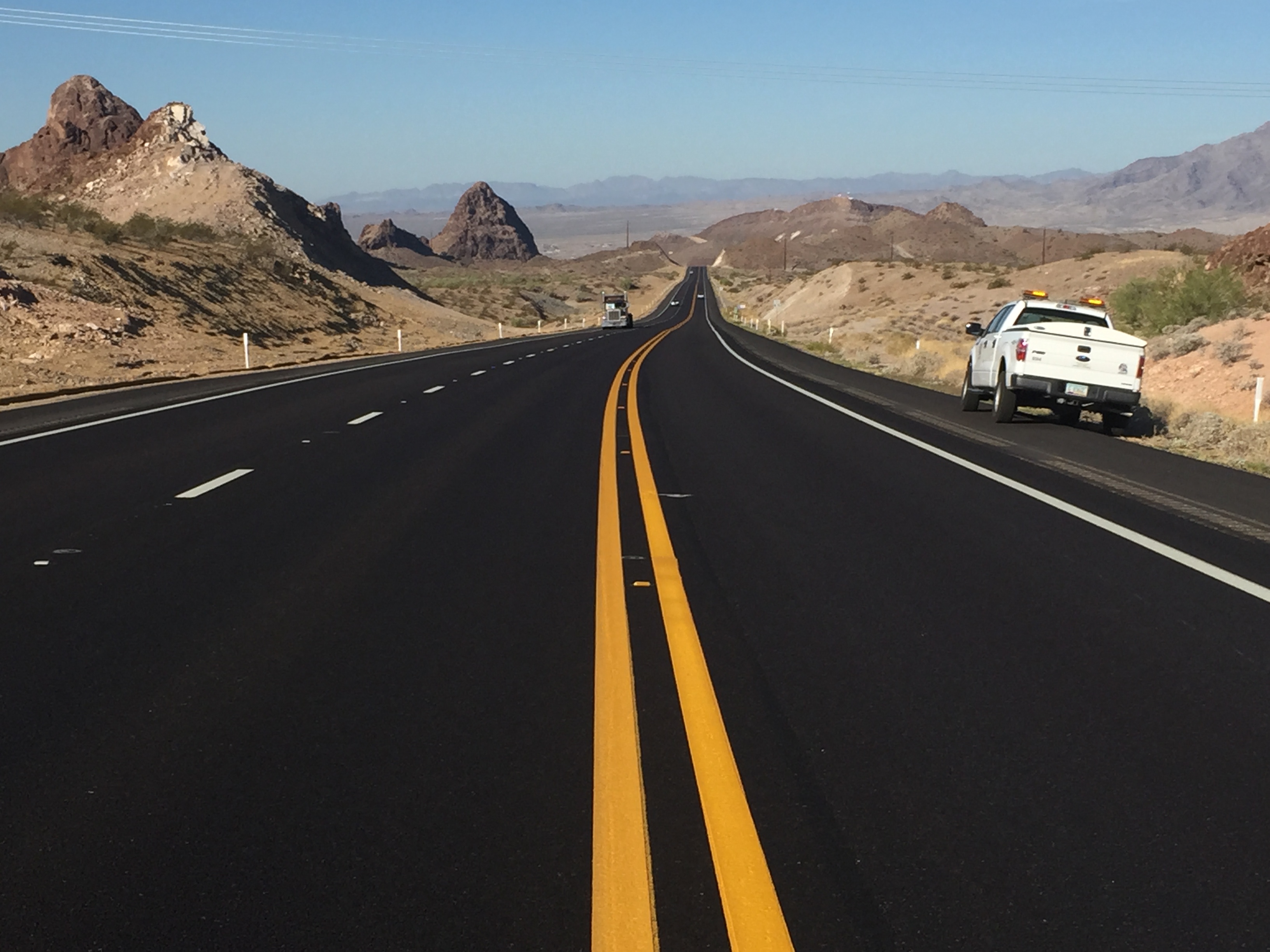 If you spend nearly half the time we do looking at a map of our lovely trapezoidal state (which would still be A LOT), you'll notice a meandering roadway hugging the California state line.
But what you may not realize at first glance, is that Arizona's consistently western-most highway is actually designated with two different names.
Yes, today we are talking about US and State Route 95.
Getting its start in San Luis at the Mexican border, US Route 95 makes its way north to Yuma where it's referred to as various local names, like Avenue B and E. 16th Street. It travels east for a good 12 miles until it kinks back northbound. US 95 makes gentle twists as it passes Kofa National Wildlife refuge before arriving at Interstate 10 in Quartzsite. After roughly 104 miles, US Route 95 meets its terminus.
But the road travels on! 
Just over the interstate, it becomes State Route 95. In Parker, the highway winks at its neighbor by first calling itself California Avenue, then Riverside Drive. Onward, over the Bill Williams River through to Lake Havasu where we catch a glimpse of the London Bridge. About 20 miles up the road, State Route 95 hits Interstate 40. There appears to be nowhere left to go.
Not so! There are 25 more marvelous miles of State Route 95. They start just over the Colorado River from Needles, California. The highway continues north into Mohave Valley and eventually Bullhead City, where it finally comes to an end at our very own State Route 68.
The only noticeable difference, of course, between US and State designated highways is where they go. US Highways can travel from state to state, sometimes (though not much anymore) spanning the entire country. State designations, by their nature, only exist within the boundaries of the state. Though (and here's where it gets muddy), the roads themselves may continue on into another state, complete with an entirely different number.
So why does 95's designation switch between a US and state route? That's kind of hard to pin down, but it goes back to when the highway system was still developing. If you want, you can read the Federal Highway Administrations full write up, but essentially US 95 started in Idaho in the 1920s, and wouldn't go further south until 1940, when it extended all the way down to Blythe, California. In the early 1960s it was proposed to extend it from Quartzsite all the way down to the international border with Mexico at San Luis at the request of both Arizona and California.
However, the road south of Quartzsite had already designated State Route 95. According to one Arizona Highway Department document, at the end of the 1930's, it extended from San Luis up to the State Route 72 junction. It's possible that State Route 95 was a contender for the US 95 route before that was finalized. As it is, after the road south of Quartzsite received its US highway designation, everything north became State Route 95, eventually taking over what had originally been State Route 172 heading north of Parker. 
No matter what it's calling itself today, US and State Route 95 make up a unique drive along Arizona's western edge. And that's definitely worth your time.