A tip that works for snow, ice or rain: Slow down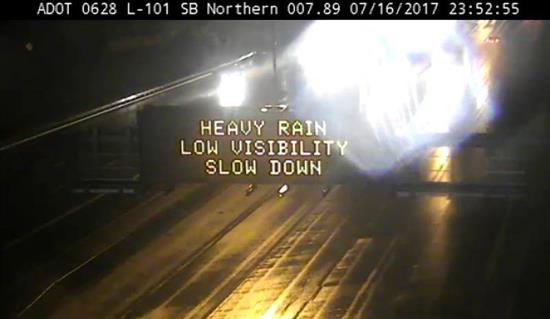 By Ryan Harding / ADOT Communications
With northern Arizona expecting some snow this evening, you've probably arrived at this post expecting ADOT to deliver tips on driving safely in the high country. And you'll get those.
But drivers in lower elevations aren't off the hook. Many of the same tips that apply when there's snow and ice on roadways are also important when it's raining, as both can produce slick driving conditions.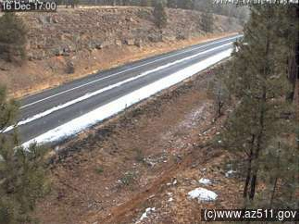 So please keep the following in mind regardless of where you are driving over the next day or two:
First and foremost, slow down. Adjust your speed to the road conditions and avoid sudden braking or acceleration. If you skid, don't slam on the brakes or jerk the steering wheel. Stay calm, ease off the accelerator, brake very lightly and steer straight or slightly into the direction of the skid.
Leave extra room between your vehicle and the vehicle in front of you. Remember, the larger the vehicle, the longer the stopping distance.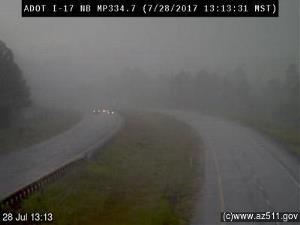 Be sure to check the condition of your windshield wipers and top off wiper fluid whether the highway you're planning to use faces snow or rain.
With between 1 and 3 inches of snow forecast in Arizona's high country, ADOT crews are preparing to help keep the highways as clear as possible during the storm. However, it's a good idea to delay travel if you can during the height of the storm so our snowplows can do their work.
Please watch for snowplows as they keep highways clear of snow and ice. Stay back at least four car lengths and don't pass a plow until the driver pulls aside.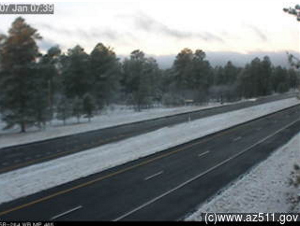 Remember, if you can't see the snowplow operator, there's a good chance the operator can't see you. You don't want to tangle with a 34-ton vehicle (that's 68,000 pounds for those scoring at home).
If there turns out to be enough snow to toss a snowball or two, have fun, but exit the highway first. Highway shoulders are reserved for emergencies. Parking on them to play in the snow can endanger you, your passengers and other drivers.
You can visit azdot.gov/KnowSnow for more tips on driving in winter conditions. Again, many of these apply to rain as well. It's all about leaving prepared, ensuring that your vehicle is ready for the elements and making smart decisions on the road.