Tom Mix Monument along SR 79 marks end of the trail for a screen cowboy
Tom Mix Monument along SR 79 marks end of the trail for a screen cowboy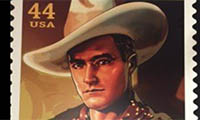 By Peter Corbett / ADOT Communications
The King of the Cowboys has not been forgotten.
Arizona tips its cowboy hat to Tom Mix, a Western film superstar a century ago, with a stone monument along a quiet stretch of State Route 79 about 17 miles south of Florence.
The roadside memorial with a metal silhouette of Mix's steed – Tony the Wonder Horse – is near the spot in 1940 where the silent-film actor crashed and died in his era's supercar, a 1937 Cord 812 Phaeton.
The Arizona Department of Transportation rest stop along the 42-mile Pinal Pioneer Parkway includes ramadas, picnic tables, an informal display and a marker that reads:
"In memory of Tom Mix whose spirit left his body on this spot. And whose characterization and portrayals in life served to better fix memories of the old West in the minds of living men."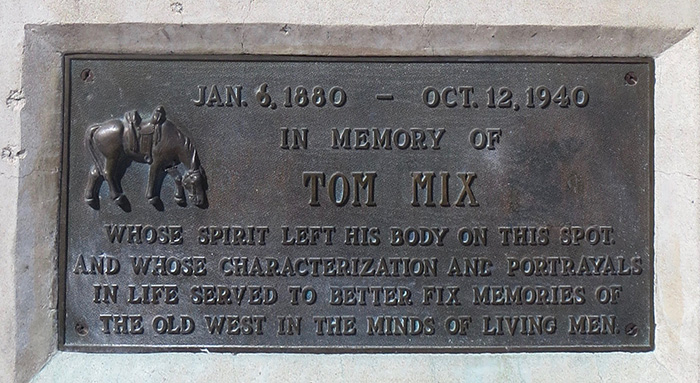 Travelers stop near milepost 116 to pay their respects to an actor and trick rider who made close to 300 films from 1909 to 1935 and was paid as much as $17,000 per week. Hollywood portrayed Mix as an upstanding cowboy, with flashy Western garb and a signature Stetson. He became the standard for the Western heroes who followed him.
"He was a very elegant cowboy," said Martha Jo Chavez, 79, of Las Cruces, New Mexico, during a recent visit with her son to the Tom Mix Monument.
"Arizona reveres its cowboys," she said of Mix, Andy Devine of Kingman and Rex Allen of Willcox.
In the 1940s, Chavez said she and her brother Jiggs Garcia went on Saturdays to double features in Las Cruces to see Mix and cowboy stars Roy Rogers, Hopalong Cassidy and Gene Autry. The movies cost a dime, and it was a nickel each for a Coke and popcorn at the Rio Grande Theatre, a 1926 two-story adobe movie house that's still operating.
"Those were great Saturdays," she said.
Younger visitors to the Tom Mix Monument may not be familiar with Mix. His film career ended in 1935, and few of his movies are readily available. However, pop culture references have kept Mix's name out there. That includes his photo on the 1967 Beatles album "Sgt. Pepper's Lonely Hearts Club Band," a mention of a Tom Mix pocket knife in an episode of "M*A*S*H" and the 1988 film "Sunset," starring Bruce Willis as Tom Mix and James Garner as Wyatt Earp.
Chris Reid of the Pinal County Historical Society and Museum said Mix's legacy as King of the Cowboys transcends his era. The museum in Florence includes a collection of Mix memorabilia.
"He was a good-looking guy with an interesting story, born in a shack in Pennsylvania in 1880, and he went on to live in a mansion in Beverly Hills," she said. "Mix was also a Romeo who was married five times, and he died tragically."
On Oct. 12, 1940, Mix was speeding on what was then US 80 from Tucson to Florence when he crashed through a highway barricade into a shallow wash. Mix might have survived, but an aluminum Haliburton case from the back seat struck him in back of the head.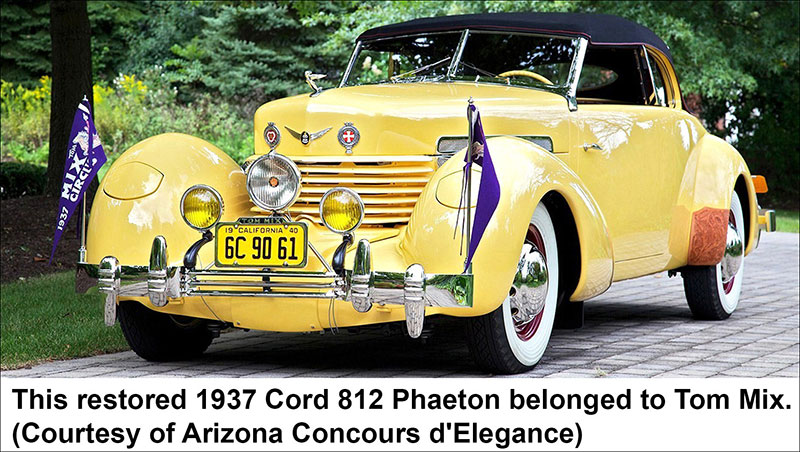 Mix's Cord 812 Phaeton was damaged, but not beyond repair. Bob H. White of Scottsdale bought the car in 2010 and has since won awards at top car shows after a full restoration. Mix had customized the vehicle with hand-tooled leather fender guards, an accelerator pedal fitted for his boot heel and a steering-wheel holster for his Smith & Wesson revolver.
White, who published "The Tom Mix Cord: Saga of a Western Film Star's Classic Motorcar," has said the supercharged Cord could top 100 miles per hour, and Mix was known to drive fast.
"It wasn't the first car Mix crashed, but it was the last," White said.
A visitor log at the Tom Mix Monument includes comments one might expect like "R.I.P," "He was my hero as a little boy" and "He was my dad's hero."
A handful of travelers per day take the time to write in the visitor log. They come from Belgium, Germany, South Africa, Canada and all over Arizona and the United States.
A Canadian traveler said: "Our annual trip to Arizona would not be complete without a stop at Tom's memorial."
A San Diego visitor wrote: "May the Western spirit never die." And a Fort Worth couple had the last word on April 23 with: "We shall meet him in the roundup in the sky."