A visit to an unusual tomb in Quartzsite
A visit to an unusual tomb in Quartzsite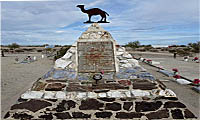 By Kathy Cline / ADOT Communications
This rather unusual tomb in Quartzsite belongs to a camel driver, former Army scout and former resident.
People called him "Hi Jolly" - a mispronunciation of Hadji Ali. Philip Tedro, born in Syria, gave himself that name after his conversion to Islam and pilgrimage to Mecca. He came to the U.S. in 1850 as part of a U.S. cavalry experiment (using camels in Southwest campaigns).
Ali remained in the desert southwest and became a prospector, scout and was a courier for what was called the Jackass Mail. He also hauled freight in the area.
Hi Jolly died in December 1902 in Quartzsite. In 1934 the Arizona Department of Transportation erected a monument over his grave. The monument's a perennial visitor favorite.