What's ahead for the Broadway Curve
What's ahead for the Broadway Curve
By Tom Herrmann / ADOT Communications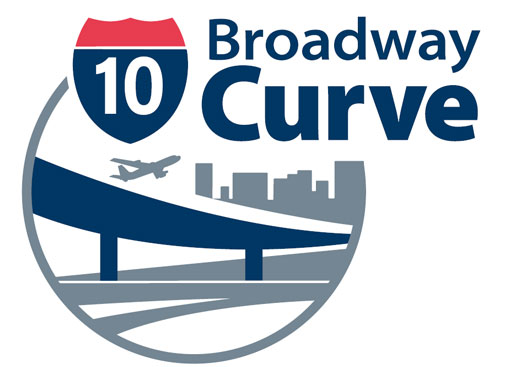 For almost a year now we've been letting the community know about the I-10 Broadway Curve improvement project that will begin in 2021 and transform travel on a section of one of Arizona's busiest freeways. Just the other day we announced the selection of a joint venture as the apparent preferred proposer for the work.  
The project, the first major urban freeway reconstruction project in Arizona, will take nearly four years to complete. Construction is expected to begin in mid- to late 2021. 
So, what is this all about? Governor Doug Ducey says the project is building "the infrastructure of the future." There are several important components:
Innovative collector-distributor lanes: Between US 60 (the Superstition Freeway) and State Route 143, drivers sometimes dart across lanes to get on or off Interstate 10. With collector-distributor (C-D) lanes, drivers on the mainline are separated from local traffic that is entering and exiting the interstate.  For example, a westbound driver planning to exit I-10 between Baseline Road and 40th Street would enter the C-D lanes at Baseline Road and choose the preferred exit. Drivers continuing on I-10 would move safely on the main freeway lanes.
A new State Route 143 interchange: Those delays on southbound SR 143, where drivers often wait in long lines to enter eastbound I-10? Gone. We're removing all three existing bridges at that interchange and replacing them with up to five new bridges. For SR 143 South to I-10 East, there will be a ramp to the C-D lanes and a ramp to the HOV lanes. Similar bridges will connect I-10 East to northbound SR 143, one from the C-D lanes and one from the HOV lanes. We'll also replace the Broadway Road overpass at I-10.
More capacity: Today about 300,000 vehicles travel through the Broadway Curve on an average work day - a number that will only increase as Maricopa County continues to grow. We'll be adding lanes throughout the 11 miles of this project. Between US 60 and Loop 202 (Santan/South Mountain freeways) in Chandler, we'll add a fourth standard lane (and keep one HOV lane) in each direction. The major work will occur between US 60 and the Interstate 17 "Split" interchange, where there will be six general purpose lanes, two HOV lanes and two C-D lanes in each direction. That will prevent congestion from becoming worse as more people move to Arizona.
The work also will include improvements to the US 60 and SR 143 interchanges to make connections to I-10 and the C-D lanes, as well as three pedestrian bridges over I-10 to connect neighborhoods. The work is funded in part by Maricopa Association of Government's Proposition 400, a dedicated sales tax for transportation approved by Maricopa County voters in 2004.
We've been working with businesses and other community leaders for nearly a year to help them plan for the impact of the work. If you want to do the same, visit the project website at i10broadwaycurve.com.