Work continues on Loop 202 improvement project
It has been a while since we last updated you on the Loop 202 widening project, but if you're an East Valley driver, you've probably noticed the progress.
Crews started working in October 2014 on the project that, when complete, will add one regular traffic lane in each direction along Loop 202 between Loop 101 (Price Freeway) and Gilbert Road. The project also adds High Occupancy Vehicle (HOV) lanes in both directions between Gilbert and Broadway roads. In all, this project will add lanes along nearly 20 miles of the Red Mountain Freeway.
Besides the addition of new lanes, this project also includes construction of retaining walls and sound walls, improving the freeway management system (FMS), drainage improvements and installation of updated signs, freeway lighting and landscaping. A new layer of rubberized asphalt is in the plans, too.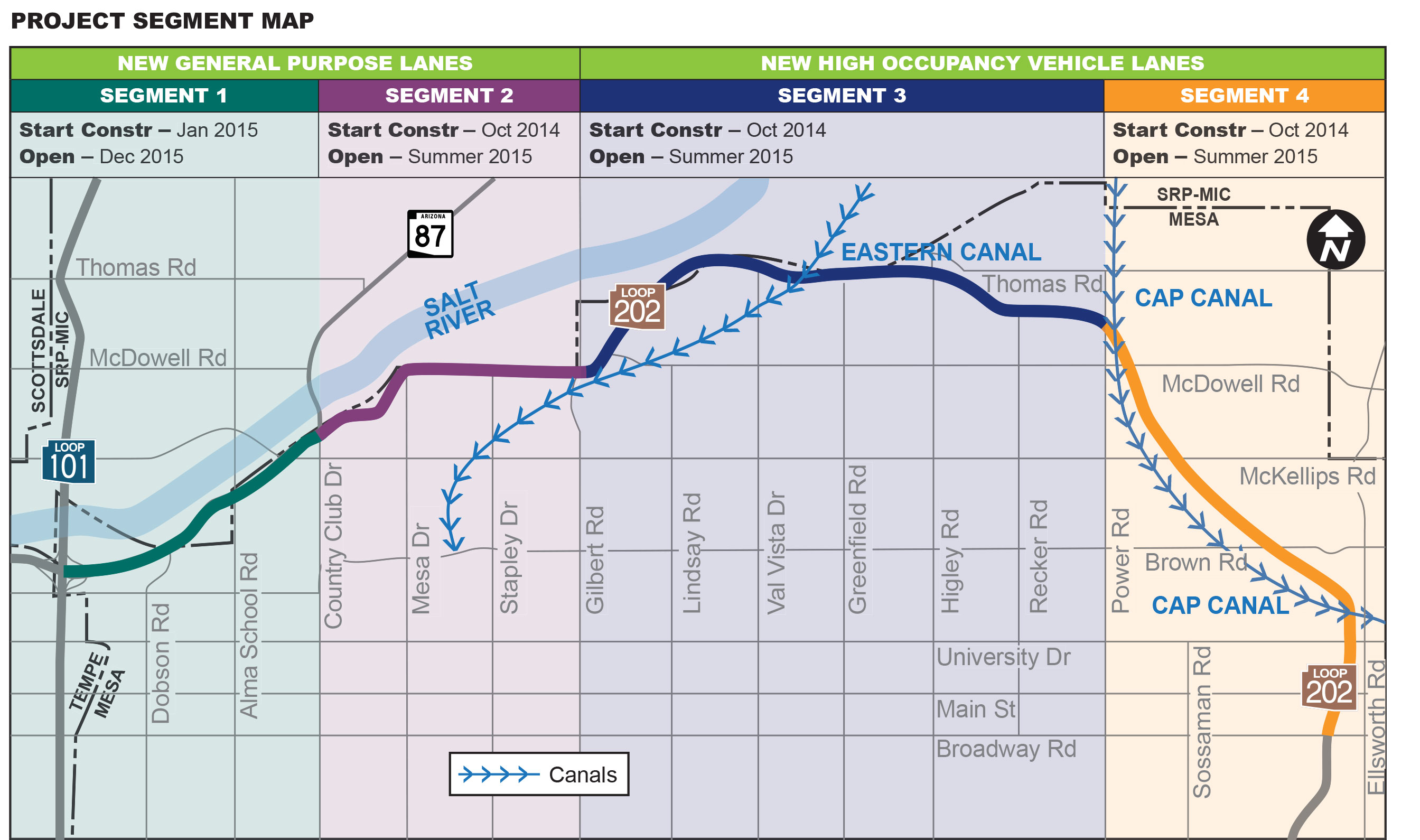 Right now, as you can see in the photos above, crews are continuing work on the project and things are really coming together…
Rubberized asphalt paving between Broadway and Power Roads is scheduled to wrap up this week; however the extra lanes won't open to traffic until the remainder of the project is paved. Paving on segment two (from Gilbert Road to Country Club Drive) is also nearing completion.
On segment three, between Power and Gilbert roads, crews are busy placing Portland Cement Concrete Pavement, which is what the rubberized asphalt eventually goes on top of. On segment one, from Country Club Drive to Loop 101, crews have the girders set for bridges to be widened at Country Club Drive and Alma School Road.
What drivers need to know
East Valley motorists should be aware of some upcoming restrictions that will impact traffic on the Loop 202 Red Mountain Freeway:
Loop 202 westbound will be closed between Greenfield Road and Country Club Drive for milling and paving from 10 p.m. Friday (May 1) to 5 a.m. Monday (May 4).
Loop 202 eastbound will be closed between Country Club Drive and Greenfield Road for milling and paving from 10 p.m. Friday (May 8) to 5 a.m. Monday (May 11).
This project also has a long-term closure in place on the Loop 202 on- and off-ramps at McKellips Road. The ramps will be closed through early October and if you're looking for a detour, you can use the on- and off-ramps at Alma School Road, Country Club Drive and Gilbert Road.