Your winter reminder: Please don't park on highway shoulders
Your winter reminder: Please don't park on highway shoulders
By David Rookhuyzen / ADOT Communications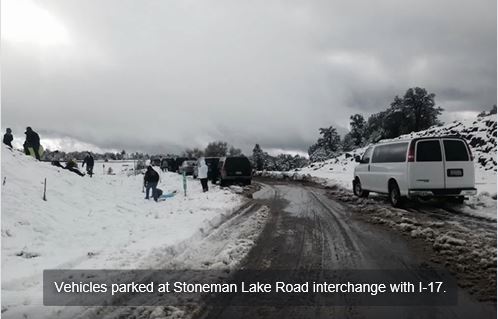 We are going to throw back to 90s cartoons for a second and quote the "Animaniacs": It's that time again.
No, it has nothing to do with a birthday, changing the batteries in your smoke detector or an upcoming dentist appointment. 
Instead, it's time for our annual winter reminder to not park along highway shoulders.
We all know this time of year means folks flock up north to frolic following snowstorms in the high country. That's great and state highways are waiting to take you up to the Rim, Flagstaff or wherever your particular winter wonderland is waiting for you.
Once there, all too often people simply pull onto the shoulder of a state highway or even Interstate 17 rather than into a designated parking area well off the road. The photo to the right is an example from 2017.
That's a big no-no.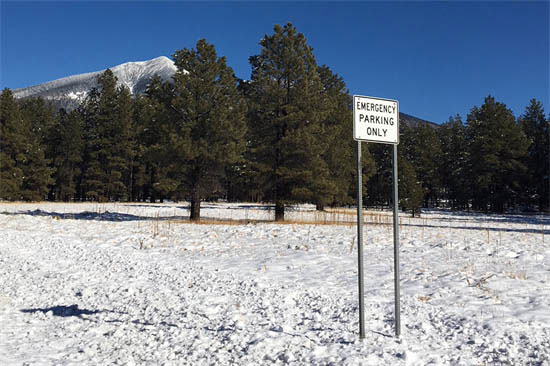 The reasons come down to safety: Other drivers may be distracted by your vehicle; other drivers may pull over as well to play in the snow, compounding the problem; your vehicle may interfere with first responders who need to use the shoulder; ADOT snowplows hurl snow and ice far off highways; and it's far safer for you and other drivers if you re-enter highways from on-ramps and other designated entrances. Then there's the obvious danger of parking and playing near fast-moving traffic that's using what could be a still-icy road.
If you need another deterrent, remember that Arizona Department of Public Safety troopers and other law enforcement officers can cite motorists for parking on a highway in violation of state laws. Violators can face expensive fines.
We fully support anyone who wants to go sledding, build a snowman or make a snow angel. But we also want everyone to be able to make it home safely at the end of the day.
That's why we will slip in here that you should make sure you are fully prepared for extended time in cold, snow and ice, as well as be ready for potentially harsh driving conditions, by visiting azdot.gov/KnowSnow. Those heading to popular snow-play sites should prepare for heavy traffic and may want to consider making an earlier start home, as traffic back tends to build as the day goes on.
And, hopefully, there will be no need for this reminder next year.