Additional Pecos Road traffic moving onto South Mountain Freeway
40th Street intersection to close for four months to complete interchange
April 29, 2019
PHOENIX – As the Loop 202 South Mountain Freeway moves closer to completion, another section will open to local traffic in a temporary configuration so crews can finish the 40th Street traffic interchange in Ahwatukee.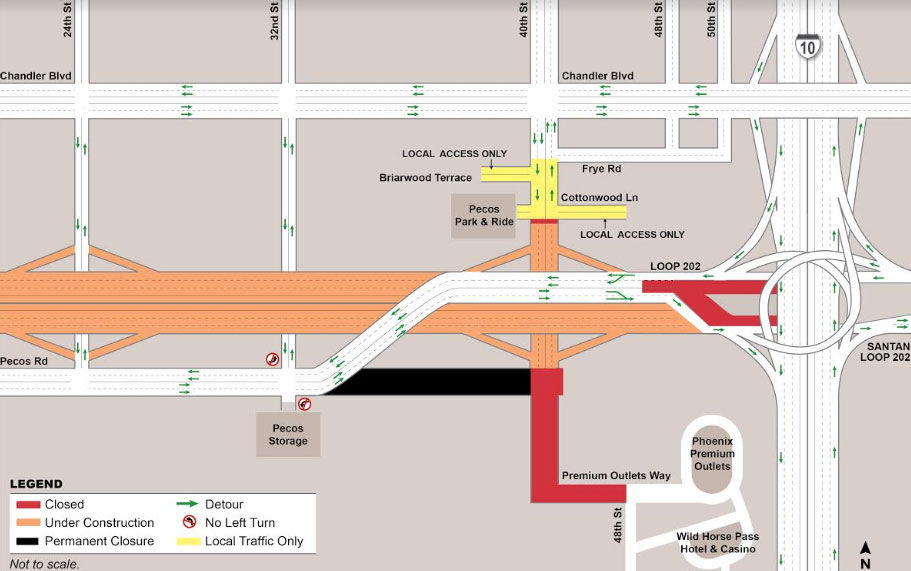 Shifting traffic onto the freeway's future westbound lanes between 32nd Street and the Interstate 10/Loop 202 Santan Freeway interchange, scheduled for 5 a.m. Monday, May 13, will require closing the 40th Street/Pecos Road intersection for approximately four months. In order to set up the traffic shift, 40th Street will be closed north of Pecos Road beginning at 7 p.m. Sunday, May 12.
This newly paved 2-mile stretch of the South Mountain Freeway will remain two lanes in each direction, and the speed limit will be 40 mph through the work zone.
In September, 40th Street at the freeway is expected to reopen to traffic once the interchange on- and off-ramps, cross-street improvements and traffic signals are completed, along with additional grading and drainage work.
The Arizona Department of Transportation and Connect 202 Partners, the developer of the South Mountain Freeway, scheduled this phase of work during the summer to minimize impacts to schools and to special event and visitor traffic to Wild Horse Pass Hotel and Casino and the Phoenix Premium Outlets.
Once traffic is moved onto the South Mountain Freeway, Pecos Road will be permanently closed to traffic east of 32nd Street. Traffic will remain on this section through the completion of the freeway.
Access to the 40th Street/Pecos Park-and-Ride will be maintained during the closure, but the facility will only be accessible to local traffic via 40th Street north of Cottonwood Lane. Alternate north-south routes include I-10 and 24th/32nd streets.
Those traveling to Wild Horse Pass Hotel and Casino and the Phoenix Premium Outlets should use I-10 to Wild Horse Pass Boulevard.
This is the second shift of Pecos Road traffic onto the South Mountain Freeway. In February, Pecos Road traffic moved onto the freeway's future eastbound lanes between 17th Avenue and Desert Foothills Parkway.
The 22-mile South Mountain Freeway is scheduled for full completion in 2020, although traffic is expected to be using the freeway earlier. It will provide a long-planned direct link between the East Valley and West Valley and a much-needed alternative to I-10 through downtown Phoenix. Approved by Maricopa County voters in 1985 and again in 2004 as part of a comprehensive regional transportation plan, the South Mountain Freeway will complete the Loop 202 and Loop 101 freeway system in the Valley.
For information on the project, please visit SouthMountainFreeway.com.