Adopt a Highway volunteers create a more attractive Arizona for all
National Volunteer Week is an opportunity for more to get involved
April 13, 2016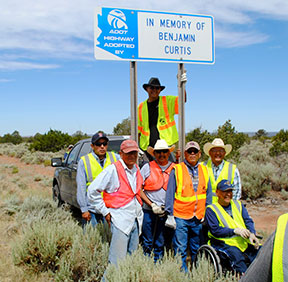 PHOENIX ‒ With National Volunteer Week underway, how about helping save Arizona taxpayers millions of dollars a year and keeping our highways free of litter?
The 11,000 volunteers with the Arizona Department of Transportation's Adopt a Highway program removed 67 tons of roadside litter last year. And there's always room for more to join in.
"Thanks to all of the dedicated individuals who participate in Adopt a Highway volunteer programs throughout Arizona and perform such a valuable service for everyone in this state," ADOT Director John Halikowski said. "Beyond the obvious benefits, keeping roadsides attractive creates a positive impression when visitors travel our highways."
Becoming an ADOT Adopt a Highway volunteer starts with visiting azdot.gov/adoptahighway and completing an application.
Requirements include:
Adopting a minimum of two miles of highway.
Cleaning that segment of highway no less than twice a year for two years.
Watching ADOT's safety video before the first cleanup.
Always wearing safety vests required by the Federal Highway Administration.
Contacting ADOT before conducting cleanups.
ADOT recommends developing and maintaining a group of six to 10 people per two-mile highway segment. Once a group is approved, the permit holder schedules the date and time of each cleanup with an ADOT contact who will provide trash bags.
To honor her mother, Cecilia Cornejo and members of her family have tended to a stretch of State Route 80 in southern Arizona for the past 10 years. She calls Adopt a Highway a way to make a difference.
"This is an opportunity to keep an area close to where we grew up beautiful," Cornejo said.
There's also an Adopt a Highway sponsor program through which businesses may contract with maintenance providers to clean up roadside litter. Information is available at azdot.gov/adoptahighway.