ADOT's message signs are valuable holiday weekend tools
Goal is keeping drivers up to date on incidents, travel conditions
May 22, 2018
PHOENIX – With drivers heading out on Memorial Day weekend trips along state highways, the Arizona Department of Transportation's network of message signs will carry essential travel and safety information.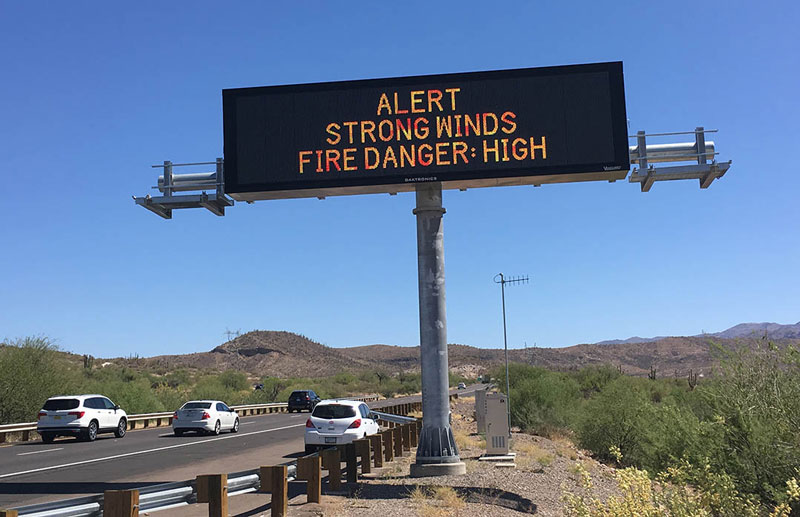 Messages ranging from "Crash Ahead Right Lane Blocked" to "Drive Sober" can be displayed on the more than 250 electronic boards that ADOT uses to keep travelers up to date across the Grand Canyon State. The signs also will be used to remind drivers about extreme wildfire conditions.
With Interstate 17 between Phoenix and Flagstaff one of the busiest highways on holiday weekends, ADOT has over the past year installed four new message boards at key locations between Anthem and the State Route 69 interchange at Cordes Junction.
The two newer northbound I-17 message signs, near Table Mesa Road and Mud Springs Road in the Black Canyon City area, provide information about highway conditions or offer safety tips as drivers start the climb up the mountainous stretch to Sunset Point.
The two newer southbound message boards at Cordes Junction and approaching the Sunset Point Rest Area also play a key role in keeping motorists up to date, especially if traffic has been slowed or stopped due to an incident as travelers return to the Phoenix area.
There are now 17 message boards along I-17 between north Phoenix and Flagstaff.
ADOT also provides highway condition information via its Twitter feed, @ArizonaDOT. Real-time highway conditions are available on ADOT's Arizona Traveler Information site at az511.gov. When a freeway closure or other major traffic event occurs, our free app available at ADOTAlerts.com will send critical information directly to app users in affected areas – where possible, in advance of alternate routes.