ADOT and GEICO encourage motorists to use Safe Phone Zones
Make the safe choice as Labor Day caps summer travel season
August 31, 2018
PHOENIX – If you're among the many Arizonans taking to state highways over Labor Day weekend, please put down your phone and just drive.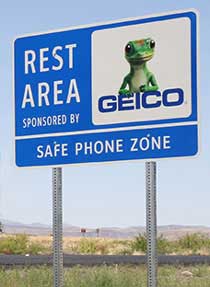 To make it easier for drivers to make the safe choice, the Arizona Department of Transportation and GEICO encourage drivers to use rest areas as Safe Phone Zones. GEICO-branded signs call attention to ADOT rest areas as places to safely use mobile devices.
"Texting, surfing the web or using apps, even for what seems like a split second, endangers you, your passengers and others on the highway," ADOT Director John Halikowski said. "Pulling into a rest area is a great way to get off the road and safely use your smartphone or tablet."
GEICO has similar partnerships with Illinois, New Jersey, New York, North Carolina and Texas.
"We're proud of the longstanding safety partnership we have formed with the Arizona Department of Transportation," said Michelle Trindade, GEICO regional vice president. "We continue to urge drivers to put down their phones while behind the wheel. It's important for us to offer them alternatives like Safe Phone Zones where they can get connected out of harm's way."
According to the National Highway Traffic Safety Administration, during daylight hours approximately 481,000 drivers across the country use their cellphones while driving, with teens the group most likely to be distracted at the time of a crash.
More facts and tips on ways to avoid distracted driving are available at SafePhoneZone.com as well as at GEICO More.
For more information about the Safe Phone Zones partnership and locations of Safe Phone Zones at Arizona rest stops, visit azdot.gov/SafePhoneZone.
To join the conversation on social media, use #GEICOSafePhoneZone.