ADOT and GEICO remind motorists to use 'Safe Phone Zones' at Arizona rest areas
Agency provides convenient places for motorists to text or use mobile devices safely
May 25, 2016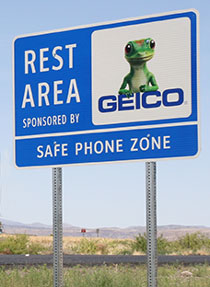 PHOENIX – As Arizonans venture out for Memorial Day weekend, state transportation officials remind drivers to avoid all distractions while on the road – getting out and about and home safely – and make use of Arizona's "Safe Phone Zones."
Through a 2014 sponsorship with GEICO Insurance, Arizona has designated 14 rest area locations as "Safe Phone Zones," where drivers can safely and conveniently use their phones and other mobile devices for calling, texting, navigating and accessing mobile apps.
June 10 marks the second anniversary of "Safe Phone Zones" in the state, and Arizona Department of Transportation Director John S. Halikowski said drivers need to be cautious on Arizona's roads this holiday season.
"Distractions when driving can be deadly," Halikowski said. "Tragedy can strike in the split second it takes to glance at a text, look at a map or take a bite of a burger. Arizona is a state of great beauty, so take a few minutes and pull into an ADOT rest area to stretch, look out at the mountains and catch up on your texts. It might be a lifesaving decision."
Highway signs identifying the facilities as "Safe Phone Zones" and carrying the sponsor logo are placed in advance of the rest areas, reminding motorists to pull off in order to use their cellphones and tablets – safely.
"People are connected to their mobile devices today more than ever, and an unfortunate side effect of that is the rise in accidents attributed to distracted driving," said Ted Ward, GEICO vice president of marketing. "We believe 'Safe Phone Zones' reflect GEICO's commitment to protecting drivers by offering them a safe place off the roadways where they can check emails, make calls and view texts. We are proud to expand our support of this sponsorship in 2016 to help make the highways safe for all drivers."
For more information on Safe Phone Zones and Transportation Safety in Arizona, visit azdot.gov/safephonezone.