ADOT Bell Road/Grand Avenue Project Update
Eastbound Grand Avenue narrowed to one lane Monday night
June 24, 2016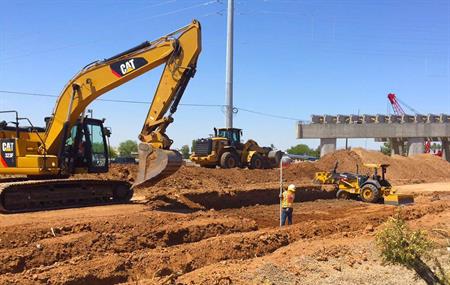 SURPRISE – As work proceeds on the Arizona Department of Transportation's $41.9 million project to build a new interchange connecting Bell Road and Grand Avenue (US 60), an overnight lane restriction has been scheduled on Monday, June 27.
Eastbound Grand Avenue will be narrowed to one lane between Towne Center and Bell Grande drives from 8 p.m. Monday to 5 a.m. Tuesday, June 28, for concrete work near Bell Road. Westbound Bell Road traffic will not be affected.
Recent work on the project has included the paving of the soon-to-be-opened 134th Avenue connection to Bell Road, east of the future Bell Road overpass. Plans call for opening the 134th Avenue connection by July 1, providing drivers with a new way to reach several businesses north of Bell Road and west of Dysart Road.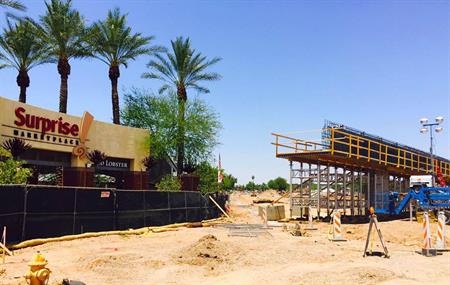 ADOT continues its review of the June 9 fall of a girder during placement on bridge pier caps at the Bell Road overpass worksite. Worksite safety is the agency's priority as the contractor, consulting engineers and ADOT continue to review the incident. While a date for resuming the installation of girders as part of the Bell Road overpass construction hasn't been set, crews are continuing other work to keep the project on track, including:
Construction of bridge piers for the future overpass west of Grand Avenue.
Paving the widened westbound side of Grand Avenue near Bell Road. The project team expects to complete paving the wider section and add temporary lane markings next month.
Installation of a new 12-inch water line along Bell Road west of Grand Avenue.
The entire Bell Road/Grand Avenue interchange improvement project is scheduled for completion by spring 2017.
To lessen the overall impact of construction on area businesses and drivers, ADOT worked with the city of Surprise to schedule the ongoing closure of Bell Road in an area between Dysart and Litchfield roads. Bell Road was closed to traffic April 1 and remains scheduled to reopen to traffic by November.