ADOT completes widening of another US 93 section north of Wickenburg
December 3, 2015
PHOENIX ‒ With five more miles of US 93 expanded to four-lane divided highway north of Wickenburg, the Arizona Department of Transportation is another step closer to its goal of transforming the 200 miles to Hoover Dam into a modern thoroughfare.
Nine months of work concluded in late November just outside Wickenburg, from milepost 185 to 190 and between state routes 71 and 89.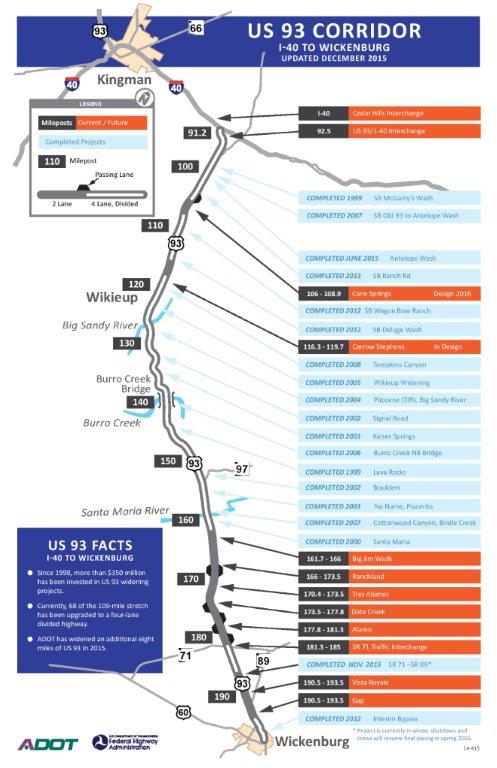 The $12.5 million improvement project, which included building two new southbound lanes and reconstructing the two existing northbound lanes to tie in the new roadway configuration, was funded through the Federal Highway Administration's Highway Safety Improvement Program.
While all four lanes are now open, ADOT will need to return in spring to complete final paving, which will include applying the top layer of asphalt to make the roadway smoother.
This is the second of two US 93 expansion projects ADOT has worked on this year. In June 2015, it completed a $20 million improvement project to widen the Antelope Wash section (mileposts 101-104) north of Wikieup.
For the past two decades, ADOT has made the US 93 corridor a priority, investing $350 million to convert what was a two-lane rural roadway to a modern four-lane divided highway.
Stretching from Wickenburg northwest to the Nevada state line, the US 93 corridor has been designated as part of the potential alignment for the proposed Interstate 11 and Intermountain West Corridor from Nogales to Las Vegas. I-11 is part of ADOT's Key Commerce Corridors plan, which would require investment in transportation infrastructure to increase trade, tourism, commerce, job growth and economic development through Arizona and the entire Intermountain West.
Currently, all but 41 miles of the 200-mile drive from Wickenburg to the Nevada state line has been upgraded to a four-lane divided highway to improve traffic flow, support the movement of freight and enhance safety through this heavily traveled area. The entire northern segment of US 93 from Kingman to the Nevada state line (mileposts 1-68) is now a four-lane divided highway following the completion of a $71 million project in 2010.
Future US 93 widening projects will depend on statewide priorities and available funding.
ADOT works to inform the public about planned highway restrictions, but there is a possibility that unscheduled closures or restrictions may occur. Weather can also affect a project schedule. To stay up to date with the latest highway conditions around the state, visit the ADOT Traveler Information System at az511.gov or call 5-1-1.