ADOT crews moving quickly to address pavement damage from storms
ADOT crews moving quickly to address pavement damage from storms
Wet winter and early spring have created ideal conditions for potholes
The abundance of rain and snow this winter and early spring, which in many ways is welcome news following years of drought, has created ideal conditions for worn pavement and potholes. 
The Arizona Department of Transportation maintains more than 6,800 miles of state highways. This wet and icy winter season, including this week's storms, created conditions that keep highway crews very busy keeping up with potholes, particularly in areas with snow. 
While this work continues, you can help by slowing down on highways affected by storm-related potholes, something that's already a good idea given wet and icy conditions many highways are seeing. Reducing speed and staying alert can help you see and avoid some potholes. You can report pavement issues to azdot.gov > Contact ADOT. 
Pavement damage including potholes can pop up quickly when moisture seeps into and below asphalt. Add the pounding that highways take from traffic, and parts of the pavement can break away. This challenge is especially acute in Arizona's higher elevations, where pavement is subjected to more freeze-thaw cycles than most of the rest of the country.
ADOT crews regularly examine state highways for potholes and address them as quickly as possible, making short-term patches followed by longer-term repairs. They also respond when motorists report potholes and other pavement damage, focusing on the most serious problems first. 
When storms create potholes, highway workers make initial temporary repairs as soon as possible with various patching materials that are placed in the damaged area and tamped down.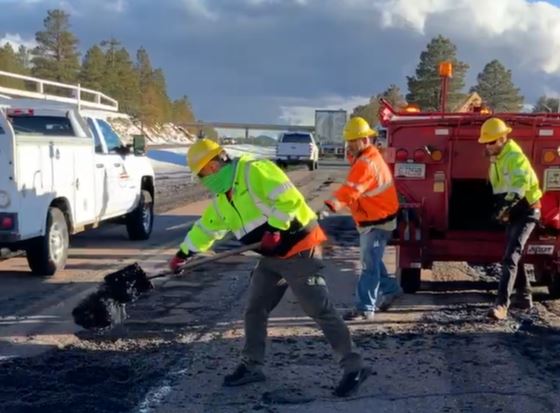 More permanent repairs come after the pavement has had time to dry out. That work involves the use of a milling machine to remove a section of pavement around the pothole. A sticky oil is sprayed into the milled area being fixed before the patch is placed on top. Crews finish the repair by using a heavy compaction roller to smooth out the pavement.