ADOT Director challenges drivers to achieve zero fatalities during Memorial Day Weekend
44 have been killed in crashes during the holiday weekend since 2013
May 23, 2018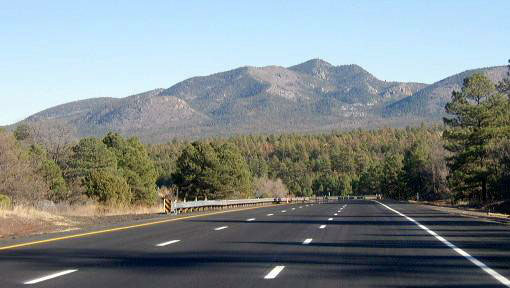 PHOENIX – No more fatal crashes. Selfish drivers? This is on you.
"Crashes and vehicle fatalities are rising in Arizona and across the country," said John Halikowski, director of the Arizona Department of Transportation. "We know how to reverse the trend and it begins with drivers. Most drivers are responsible, but a few selfish ones drive drunk or high, drive like a madman or refuse to put down the phone. If you know a driver like that, please talk with them. When everyone begins making safe decisions behind the wheel, these preventable car-crash deaths will end."
Halikowski is challenging drivers to engage in smarter and safer decisions and achieve zero traffic fatalities during Memorial Weekend. That hasn't happened since at least 1971 – that's how far back holiday weekend crash data is available – but fatalities over the long holiday weekend are trending downward. In 2015, there were 11 fatal crashes on all roadways in Arizona, including six fatal crashes related to alcohol. The number of fatal crashes fell to seven in 2016 and then five in 2017. Last year, alcohol played a role in only one fatal crash during Memorial Day Weekend.
That's a credit to the work done by the Governor's Office of Highway Safety, the Arizona Department of Public Safety and local law enforcement agencies on holiday DUI enforcement campaigns.
"We're moving in the right direction, but too many people are choosing to drive impaired," said Alberto Gutier, director of the Governor's Office of Highway Safety. "There are many other ways to get home instead of driving drunk. Plan ahead so you can get home safely. The cost of a cab or rideshare is far less than a DUI."
Additionally, ADOT and AZDPS are emphasizing safety in three holiday high-traffic zones: Interstate 17 between north Phoenix and Flagstaff, Interstate 10 between Phoenix and Tucson and State Route 87 between Mesa and Payson. Along those routes, ADOT crews will strategically stage equipment, such as loaders and utility trucks, minimizing travel delays with faster response times to crashes and stalled vehicles. Speed limits will be lowered on the windy stretch of I-17 between New River and Sunset Point Rest Area during peak holiday travel periods.State troopers will also focus on preventing three of the leading causes of traffic deaths: speeding, impaired driving and lack of seat belt use.
"So far this year we have lost 136 people to fatal collisions on Arizona highways, a 24 percent increase from the same time frame last year. This Memorial Day Weekend our troopers will be patrolling throughout the state enforcing speed limits, looking for distracted and aggressive drivers, and targeting impaired drivers," said Col. Frank Milstead, AZDPS director. "I am calling on the public to be safe and smart this holiday weekend. Safe roads this holiday weekend begin with you. Your actions can save lives. Give yourself extra time, slow down, buckle your seatbelt, and don't drive impaired."
Buckling a seat belt is the first and easiest thing a driver or passenger can do to be safe in a vehicle. Nearly 90 percent of Arizonans buckle up, but unbelted occupants account for about 25 percent of all crash fatalities annually. And don't forget to put children in the proper child safety seat.
To help make sure Arizonans are buckled up, the Governor's Office of Highway Safety is partnering with law enforcement agencies around the state to enforce Arizona's seat belt and child safety seat laws. The campaign will run through June 3.
Dr. Cara Christ, director of the Arizona Department of Health Services, advises that anyone who is planning to travel in a vehicle to follow a few guidelines to ensure a safe trip for themselves and their families.
"As parents we lead by example, so it's important that we always wear a seat belt when driving," Dr. Christ said. "Children need to ride in a car safety seat. Parents should follow the car seat recommendations to ensure their child is in the right seat for their age and that the seat is used properly. Children 12 and under should always ride in the back seat and must wear a seat belt at all times."
Because this is one of the most heavily-traveled weekends of the year, Halikowski encourages motorists to plan ahead. In addition to packing extra water and snacks – in case an unexpected delay occurs – he's urging drivers to think now about what they can do to have a safe trip this weekend.
"Make a driving plan for the weekend," Halikowski said. "Figure out how you are going to avoid drinking and driving, don't text and drive and exercise patience on the road."