ADOT to host Small and Disadvantaged Business Enterprise Virtual Conference
December event provides business and training opportunities
November 9, 2020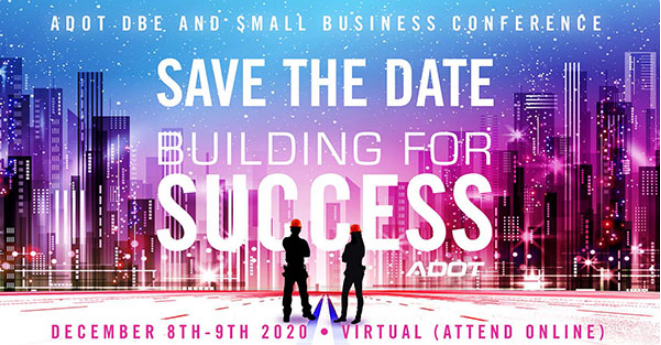 PHOENIX – To continue assisting members of disadvantaged groups during the current public health situation, the Arizona Department of Transportation is hosting a virtual conference in December to help owners of small businesses become more competitive within the highway industry.
Registration is now open at azdot.gov/DBESupportiveServices for ADOT's Disadvantaged Business Enterprise (DBE) and Small Businesses Conference, scheduled for Dec. 8-9. The conference will include an orientation for new and prospective DBE firms, 15-minute speed appointments with agencies and prime contractors, and an opportunity to learn about ADOT programs designed to help build businesses.
The goal: help small businesses and those owned by members of socially and economically disadvantaged groups compete for transportation projects that receive federal funding.
With a theme of "Building for Success," workshops through a virtual platform, the conference will focus on people power, smart transportation and finding projects.
Although the conference is geared toward disadvantaged business enterprises and small businesses, it's open to all businesses, public agencies, vendors and community partners with an interest in highway related industry.
The virtual conference is one of several virtual gatherings ADOT has employed to engage members of the public during the current health situation and need for social distancing.
This summer, ADOT held a virtual public hearing on the future Interstate 40/US 93 traffic interchange in Kingman, allowing participants to listen and provide input on the project while others could listen to the meeting simultaneously on local radio stations. The attendance and public comment levels rivaled that of traditional, in-person public hearings.
ADOT has also used virtual technology to host construction academies, small business workshops, and the agency's Border Inspection Unit held online training to help truck drivers in Mexico better understand and prepare for inspections at the border.
For more information and to register, please visit the ADOT's DBE Supportive Services Program page at azdot.gov/DBESupportiveServices.