ADOT Incident Response Unit unveils new look with sponsor GEICO
ADOT Incident Response Unit unveils new look with sponsor GEICO
Sponsorship bolsters safety on Phoenix-metro area highways
PHOENIX – The Arizona Department of Transportation's Incident Response Unit trucks have taken on a new look, but the mission remains the same. ADOT is introducing GEICO as the exclusive sponsor of its vital IRU program that increases safety for motorists and responders, alike, by getting traffic moving sooner after crashes, clearing debris from highways and assisting stranded motorists.
The 15-member Incident Response Unit, sponsored by GEICO, improves traffic flow after crashes and reduces the possibility of secondary collisions, which often are more serious than the initial crash, while helping motorists get where they need to be.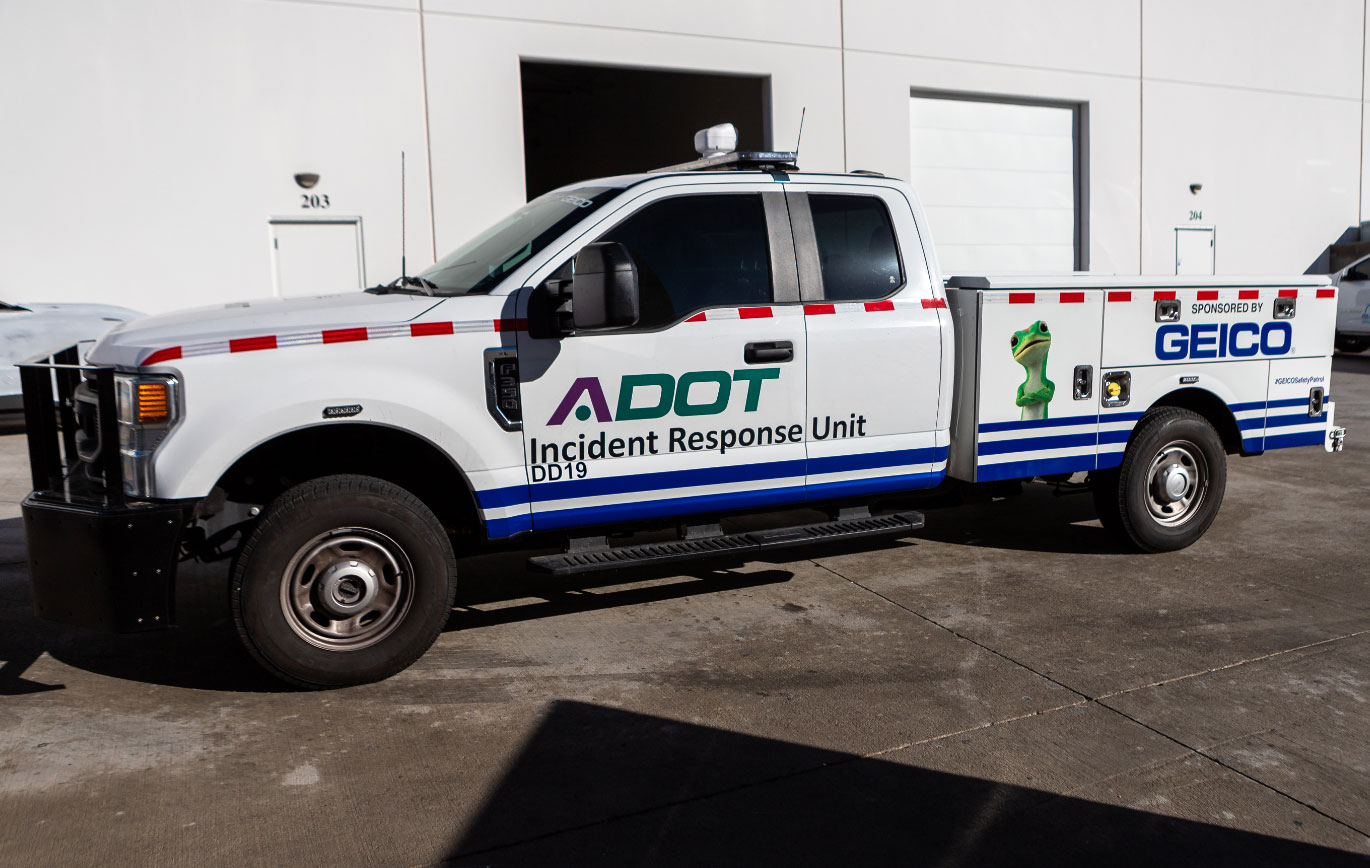 "Public safety is a top priority and the work being done by ADOT's Incident Response Unit on state highways keeps safety at the forefront for drivers and passengers," Gov. Katie Hobbs said. "This partnership is a win-win for Arizonans, saving taxpayer dollars and maintaining this vital ADOT program."
Valley drivers may have already seen ADOT IRU trucks wrapped with GEICO branding as part of this sponsorship. The IRU service area includes most of Maricopa County.
The innovative sponsorship provides support for the program, furthering ADOT's efforts to reduce traffic delays and improve safety for motorists, while highlighting GEICO's commitment to making driving safer for everyone.
"For decades, GEICO has promoted driver safety from coast to coast. We're proud of this collaboration, which will make Arizona's and Phoenix's motorways as safe as possible," said Frank Pickering, GEICO's Vice President of Operations, Physical Damage. "GEICO is honored to partner with IRU to help motorists get to their destination safely. Additionally, drivers can do their part by driving alert, not distracted."
IRU operators respond to about 12,000 incidents annually. Those incidents range from clearing travel lanes of unsecured or lost loads to assisting with traffic control when a crash closes an interstate to helping motorists change a flat tire. Work performed by IRU, sponsored by GEICO, frees Arizona Department of Public Safety Troopers to focus their efforts on crash investigations and respond to other situations on Phoenix-area freeways.
"Safety is front of mind in everything ADOT does and the IRU program is one of the most visible ways ADOT shows its commitment to safety," ADOT Director Jennifer Toth said. "We are pleased to work with GEICO and appreciate their contribution to making Arizonans safer and ensuring everyone gets safely home."
The Incident Response Unit, sponsored by GEICO, patrols freeways in Maricopa County Monday through Friday from 4 a.m. to midnight, and on weekends from 6 a.m. to 4 p.m., ready to assist state troopers and the public.
GEICO sponsors similar patrol units in 13 other states. Motorists need not have insurance with GEICO to use the program. More information can be found at SafetyPatrolinfo.com and the ADOT website. Assisted motorists are encouraged to share about the help they received by posting to social media. Motorists will be able to tag the posts using #GEICOSafetyPatrol.