ADOT internships prepare next generation of transportation professionals
Interns work in planning, construction, landscaping, meteorology and more
October 5, 2016
PHOENIX ‒ Arizona's network of highways requires transportation professionals specializing in areas as wide-ranging as planning routes, repairing bridges and creating beautiful landscaping along roadways.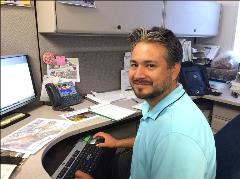 To help ready the next generation of professionals to plan, operate and maintain a safe and efficient transportation system, the Arizona Department of Transportation employs nearly 40 interns whose work touches projects in every corner of the state.
Coming from communities across Arizona, the interns work in fields including engineering, urban planning, construction management, environmental science, landscape architecture and more.
Earlier this year, ADOT partnered with Arizona State University to have meteorology interns provide real-time forecasts to those managing highways. Working out of ADOT's Traffic Operations Center, these interns have helped crews respond rapidly to storms and other weather challenges.
ADOT recruits interns from high schools and colleges every spring, and interns can work for the agency throughout their college careers and up to six months after graduating. Typically working one day a week, they tackle the same kinds of projects they'll face after graduating.
Interns benefit from the experience of working with a supervisor plus a designated mentor.
"The interns I talk to love the program," said Candee Samora, ADOT's intern project coordinator. "They say they love school but there's nothing that can replace the hands-on training they're getting at ADOT."
One of ADOT's interns is Yuri Lechuga-Robles, an Arizona State University landscape architecture student who graduated in May as the 2016 Outstanding Undergraduate Student for the Herberger Institute for Design and the Arts. Lechuga-Robles' position in roadside development has allowed him to work on freeway projects in northern Arizona, Tucson and the Phoenix area. One of the lasting impacts of his work with ADOT Roadside Development is helping choose plants to go along roads and the graphic designs on bridges.
"Everyone in Roadside Development has been very helpful," he said. "They've really taken care not to hold back and they've put me in situations where I can do things and learn. They've had confidence in me."
Lechuga-Robles received the John E. McGee Intern Scholarship in 2015 from ADOT and the Western Association of State Highway and Transportation Officials. He was the first landscape architecture student awarded the scholarship named after McGee, the late ADOT chief financial officer.
"A lot of what I'm doing at school is directly related to the projects I do here," Lechuga-Robles said. "It's definitely been enriching to my career in landscape architecture."
LeRoy Brady, ADOT's chief landscape architect, said the agency gets just as much out of the experience as its interns do.
"Interns help us meet our project development goals and schedules," Brady said. "They bring in new ideas and new ways of looking at things."
For more information on ADOT internships, visit azdot.gov/internships.