ADOT launches Interstate 11 environmental study from Nogales to Wickenburg
Input from public, communities, others key to selecting a corridor alternative
March 4, 2016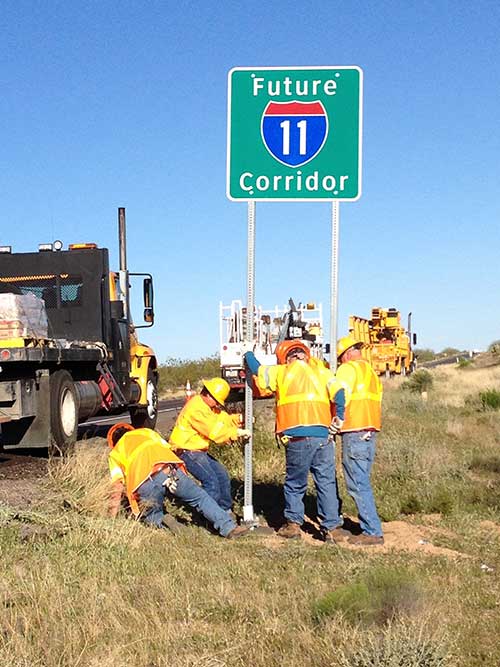 PHOENIX – The next phase of defining an Interstate 11 corridor through Arizona offers the public a chance to help shape the vision for a route intended to enhance trade and boost Arizona's economy.
In partnership with the Federal Highway Administration and regional planning agencies, the Arizona Department of Transportation has launched a three-year environmental study to select an I-11 corridor alternative between Nogales and Wickenburg.
Extending from Nogales through the Las Vegas area to northern Nevada – and possibly north toward Canada ­– Interstate 11 would support large-scale manufacturing, enhance movement of people and freight by vehicle and potentially rail, and be a corridor for trade, communications and technology.
A three-year environmental study will consider possible routes between Nogales and Wickenburg. The first step is developing an Alternatives Selection Report assessing a wide range of corridor alternatives and options, along with opportunities and constraints. A Draft Tier 1 Environmental Impact Statement will evaluate in greater detail a smaller number of corridor alternatives, including segments that may advance as independent projects. There will be a no-build alterative as well.
Input from the public, communities and other stakeholders will contribute to these two reports, as well as a Final Tier 1 Environmental Impact Statement that will list a selected corridor alternative.
"The Arizona Department of Transportation and our partner agencies and stakeholders have long recognized the importance of the Interstate 11 corridor and the benefits that it will bring to our state through trade, commerce, job growth and economic vitality," ADOT Director John Halikowski said. "This congressionally designated high-priority corridor offers the opportunity for Arizona to stay competitive, create regional and global connections, and provide a direct link to success in the global marketplace."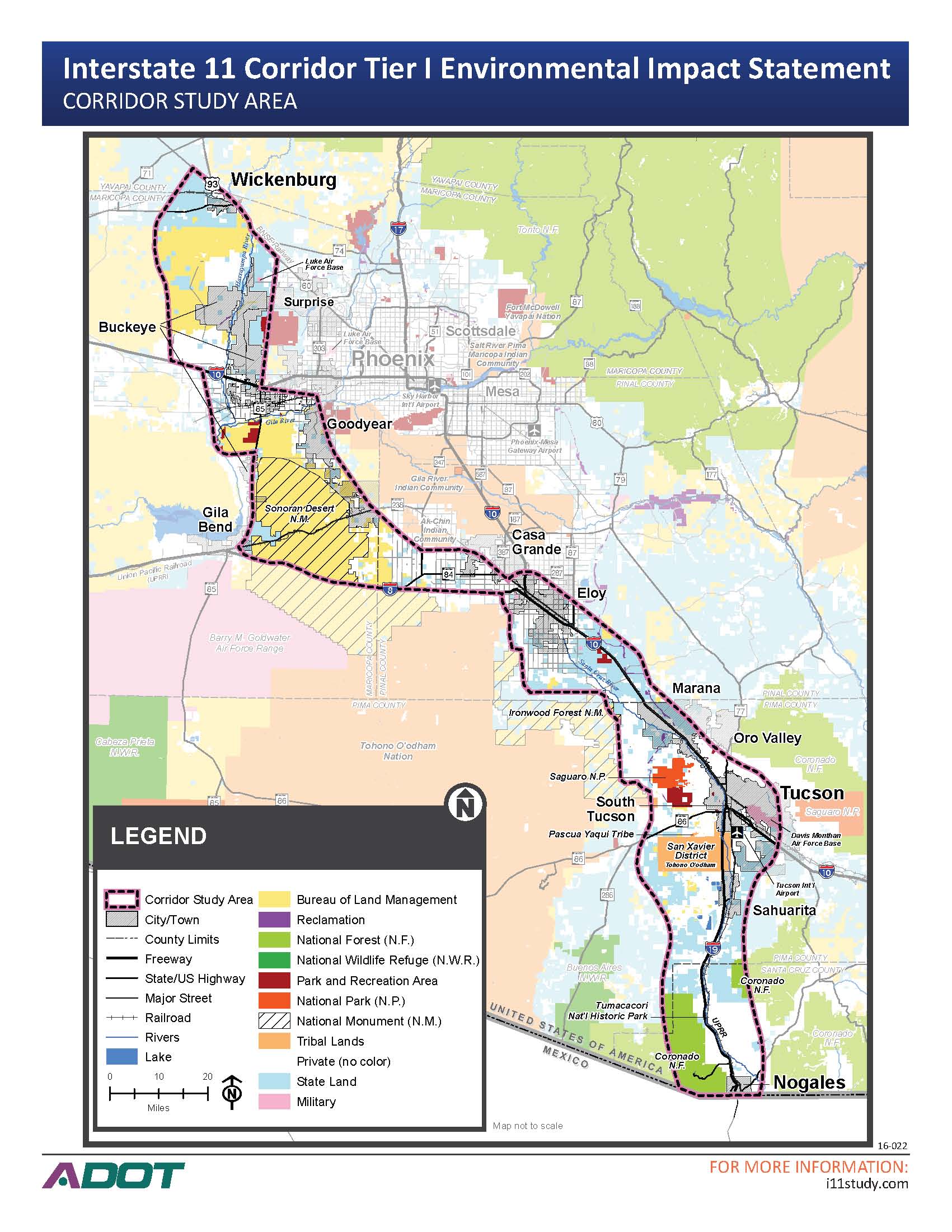 In November 2014, the Arizona and Nevada departments of transportation completed a two-year feasibility study as the first step in the Interstate 11 process. ADOT focused on and supported a route through Arizona connecting Nogales and the Hoover Dam bypass bridge near Las Vegas.
In December 2015, Congress approved the Fixing America's Surface Transportation Act, five-year legislation to improve the nation's surface transportation infrastructure. While the FAST Act formally designates Interstate 11 from north to south in Arizona, it does not include funding. It does, however, make the corridor eligible for federal funding in the future.
The recommended I-11 corridor would likely follow US 93 from the Hoover Dam bypass bridge south to Wickenburg. The 280-mile corridor study area for the current environmental study begins in Wickenburg and runs west of the Phoenix metropolitan area and then south to the Tucson area and then Nogales.
During the next three years, the public, communities and other stakeholders will have opportunities to comment through regular meetings, community events and other forums. Right now, comments can be sent to:
Email:

[email protected]

Toll-free bilingual telephone hotline: 1.844.544.8049
Mail: Interstate 11 Tier 1 EIS Study Team
c/o ADOT Communications
1655 W. Jackson St., Mail Drop 126F
Phoenix, AZ 85007
For more information about the I-11 study, visit i11study.com/Arizona.