ADOT officers foil drug shipment into Arizona near Parker
Officers find 108 pounds of marijuana, other paraphernalia in car hauler
March 23, 2018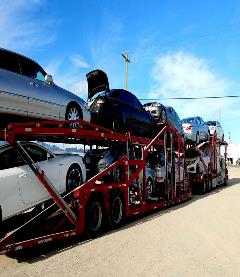 PHOENIX – Arizona Department of Transportation officers stopped a drug smuggling operation when they found 108 pounds of marijuana and other drug paraphernalia stashed in the trunk of a vehicle on a car hauler in western Arizona.
On Wednesday, officers with ADOT's Enforcement and Compliance Division spotted the truck using a county road near Parker used by drivers seeking to avoid ports of entry at Ehrenberg along Interstate 10 and at Parker along State Route 95. After stopping the truck on SR 95, ADOT officers obtained consent from the driver to conduct a search.
In the trunk of a 2009 Mercedes Benz sedan atop the car carrier, officers found dozens of bags of marijuana, vials of oil extracted from marijuana plants and drug paraphernalia.
The investigation has been turned over to ADOT's Office of Inspector General to follow up on the driver of the car hauler and owner of the vehicle that contained the marijuana.