ADOT Partners with State Forestry, Eastern Arizona Counties Organization on 'Healthy Forest Initiative'
Boost to economy, healthy forest in White Mountains region
November 17, 2014
PHOENIX — In an effort to promote a healthy forest, improve commerce and protect the state's infrastructure following the devastating Wallow Fire, the Arizona Department of Transportation has partnered with the Arizona State Forestry Division and the Eastern Arizona Counties Organization to launch the "Healthy Forest Initiative."

The recently launched two-year ADOT pilot project allows timber industry trucks to carry additional weight on several state highways in the White Mountains region, including US 60, State Route 77, US 180, State Route 260 and State Route 277.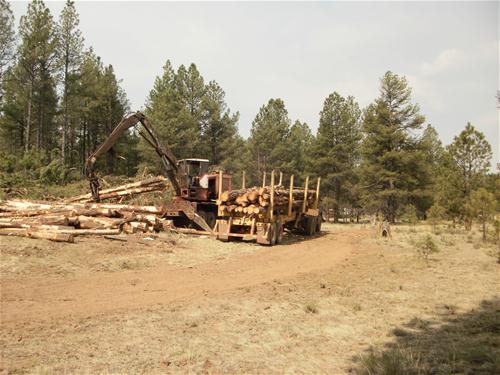 The higher truck weight limit will greatly enhance the ability of the wood industry to clear forests in the White Mountains and transport wood materials to saw mills, pellet plants and energy-generating plants in Springerville, Show Low and Snowflake, while reducing the risk of further catastrophic forest fires to the region.

"Transportation is critical in connecting communities and is the driving force in expanding our local economies," said ADOT Director John Halikowski. "When I learned that our weight restrictions were negatively impacting the logging industry, ADOT joined with the State Forestry Division and ECO to make it a priority to come together and reach a solution quickly.

"This collaborative effort will be a major economic boost to the Eastern Arizona economy, help to reduce the chances of devastating forest fires that have occurred in recent years, and protect our watershed and environment," said Halikowski.

State Forester Scott Hunt added, "We know that much of our forested land in Arizona is at high risk from catastrophic wildfire, insect and disease outbreaks, habitat loss and watershed degradation. I applaud the work of ADOT, ECO, the Governor's Forest Health Council and our Forestry Division Staff in working together to develop this transportation project with the intent to accelerate forest management treatments and restore forest health."

Recently, ECO — which represents Navajo, Apache, Gila, Graham and Greenlee counties - approached ADOT about concerns from the northern Arizona logging industry about weight restrictions on several highways in eastern Arizona, an area subject to recent wildfires.

Previously, trucks were limited to carrying loads of no more than 80,000 pounds on SR 260 from Payson to Eagar, SR 277 from Heber to Snowflake, SR 77 from Snowflake to Show Low, US 60 from Cedar Canyon to the New Mexico state line and US 180 from Springerville to the New Mexico state line.

Under the new agreement, the weight limit has been increased to 90,800 pounds, which will allow the timber industry to more effectively manage the forest recovery efforts by carrying heavier loads.

"I work with a wide variety of government agencies in my job as a county supervisor," said David Tenney, Navajo County Board of Supervisors, District 4. "In my experience, it is a very rare occasion to find a team of folks who look for ways to say 'yes' before they look for ways to say 'no.' The team from ADOT stepped up on this pilot project and helped the ECO counties find ways to make it happen."

Tenney added, "This project is about making things easier on business and making our forest healthier. We heard from our industry partners that they had a disadvantage with their competitors in other states because other states allowed higher weight limits in certain circumstances. We saw their difficulty right away and ADOT did, too. This pilot project is a win-win for industry, the communities and the state.

"ECO provided a proposal for the pilot project, and ADOT staff conducted an extensive pavement and bridge analysis to determine if the highways could stand up to the increased weight loads. Other highways may be added in the future pending further pavement and bridge analyses by ADOT engineers.

Timber haulers interested in the new program can participate by filing an application for a 30-day, $75 per vehicle permit that will allow an unlimited number of loads up to 90,800 pounds on the designated routes. The permit fees collected will be used to offset impacts to these roadways.

The 2011 Wallow Fire burned more than 500,000 acres in Apache County and resulted in millions of dollars of economic loss, countless hours of firefighter service and loss of animal habitat. ADOT suffered more than $2.5 million in damages related to the Wallow Fire, including roadway surface repairs, fence replacements, flooding, sign repairs, hazard tree removal and ditch cleaning.
"We are grateful to the ADOT team and leadership for stepping up to the challenge of restoring Arizona forests to fire resiliency, improving our watersheds and continuing to support economic growth in Eastern Arizona," said ECO Executive Director Pascal Berlioux. "The ADOT Healthy Forest Initiative is a best-in-class example of state and local governments working at their best and making things happen for the people of Arizona."