ADOT signs to remind drivers about $400 HOV-lane violations
Sending a message to solo drivers who ignore law
March 14, 2016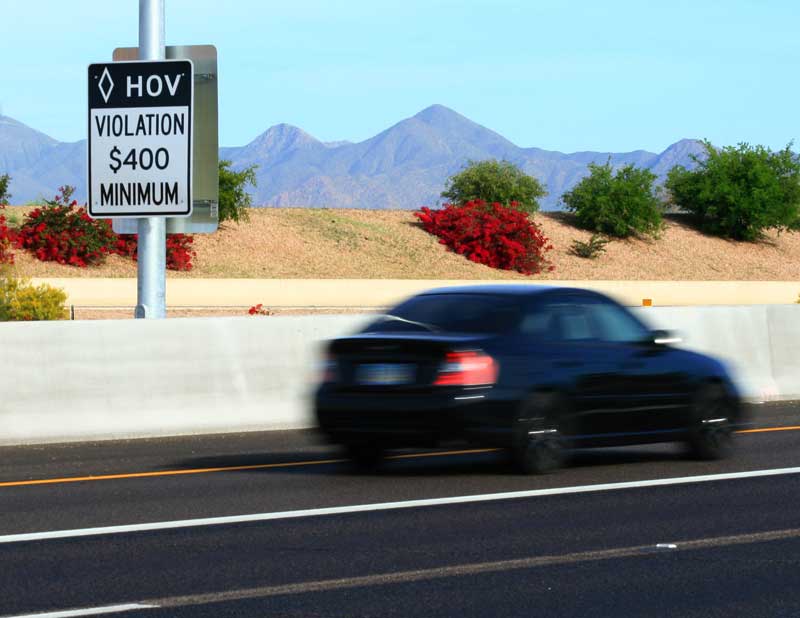 PHOENIX – Drivers along Phoenix-area freeways can expect to see an additional reminder about the cost of being caught cheating in high occupancy vehicle lanes during weekday rush hours.
Over the next year, the Arizona Department of Transportation will add more than 250 signs that say "HOV Violation $400 Minimum" along Valley freeways with HOV lanes.
The new signs will join existing ones listing the weekday rush hours when HOV rules apply: 6 a.m. to 9 a.m. and 3 p.m. to 7 p.m. Monday through Friday. During those periods, access to HOV lanes is limited to vehicles with two or more people aboard or displaying Arizona's "Blue Sky" license plates. Motorcycles and buses are among other vehicles allowed to use HOV lanes during rush hours.
"These signs will remind drivers that violating the HOV-lane law is costly," said ADOT Director John Halikowski. "Fines, court costs and the inconvenience of dealing with the traffic ticket are just not worth it."
The first of the new "HOV $400 Violation" signs have been installed along a 20-mile stretch of the Loop 202 Red Mountain Freeway between Loop 101 and Broadway Road in Mesa. Carpool lanes along that freeway recently were extended between Gilbert and Broadway roads as part of a widening project that is nearing completion.
"We all pay when drivers drive in the HOV lane alone," said Department of Public Safety Director Col. Frank Milstead. "Even the best excuse is no excuse."
There are more than 190 miles of HOV lanes along Phoenix-area freeways.
The new signs will continue to be installed in stages over the next year as part of sign-maintenance projects. ADOT expects to install them as part of the Loop 101 widening project between Shea Boulevard and Loop 202 by this summer.