ADOT supports annual 'Put the Brakes on Fatalities Day'
National awareness campaign set for Oct. 10
October 9, 2020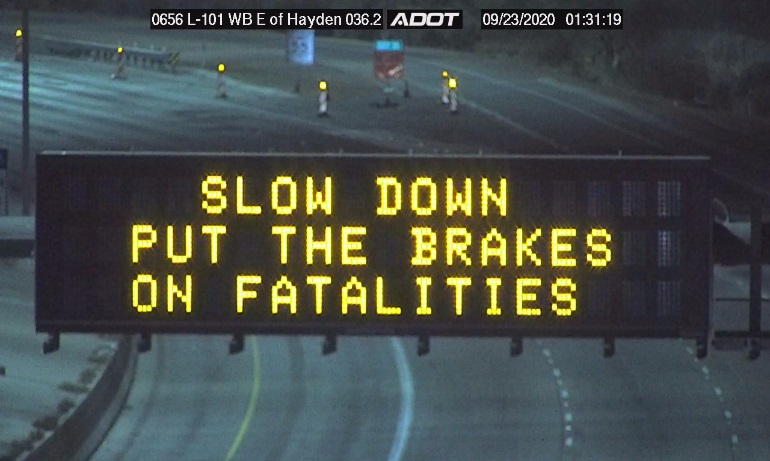 PHOENIX – According to the National Highway Traffic Safety Administration, there are an average of 35,000 to 40,000 traffic fatalities in the United States every year. In Arizona, there have been 725 traffic fatalities this year through the end of September.
That's why the Arizona Department of Transportation is joining highway agencies across the country on Saturday, Oct. 10, to recognize the 17th annual "Put the Brakes on Fatalities Day," a national campaign to raise awareness about the steps drivers can take to reduce traffic fatalities.
In support of Put the Brakes on Fatalities Day, ADOT's overhead message boards across the state will display messages reminding drivers to slow down, drive sober, not tailgate and to use turn signals.
"Reducing traffic fatalities begins with making wise decisions behind the wheel," said Dallas Hammit, ADOT's deputy director for transportation. "Eliminating distractions like texting, never driving when drowsy, obeying the speed limit and never drinking while driving are just some ways drivers can reduce their chances of being in a crash."
In Arizona, there has been an average of 744 traffic fatalities through the end of September over the past three years.
In 2019, Arizona saw decreases in "distracted driving behavior," alcohol-related fatalities, the number of people killed not wearing seat belts, and pedestrian fatalities.
"By working together, we can continue to make a difference in reducing traffic fatalities in our state and our nation," Hammit said.
Put the Brakes on Fatalities Day was developed by the American Society for Civil Engineers and exists to heighten consciousness about what people can do and what safety-based steps they should take to reduce transportation fatalities and accidents on American highways, roads, and streets by calling attention to reducing fatalities on one specific day.
For more information, visit asce.org/brakesonfatalities.