ADOT wrapping up first phase of Ajo Way/I-19 improvements
Second phase includes new Ajo Way bridge over Santa Cruz River
March 15, 2018
TUCSON – With a new, wider bridge carrying Ajo Way (State Route 86) over Interstate 19 and an innovative interchange design managing traffic with one set of signals, the Arizona Department of Transportation is wrapping up the first phase of improvements for a growing area south of downtown Tucson.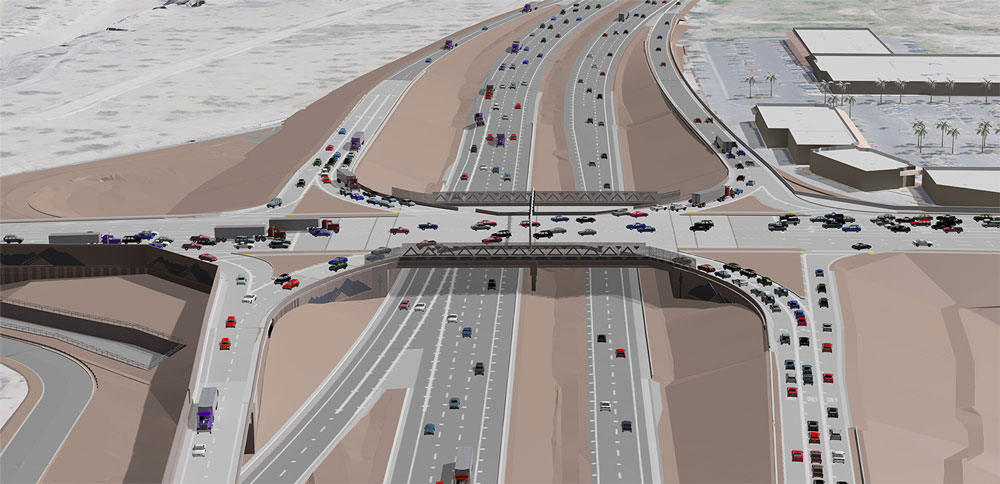 While crews are scheduled to finish the final details this month, ADOT engineers are already planning the second phase, which will improve traffic flow in the area around the interchange.
Expected to begin late this summer and take 18 months to complete, the second phase includes widening a section of I-19, replacing the Santa Cruz River bridge on Ajo Way and widening Ajo Way from Holiday Isle Boulevard to I-19. It also will create a ramp from Ajo Way to southbound I-19 that crosses over southbound I-19 traffic exiting at Irvington Road, creating a braided configuration that separates exiting and entering traffic.
The estimated cost of phase two improvements is $29 million.
Phase one improvements, which cost about $40 million, created a new bridge over I-19 with a Single-Point Urban Interchange that has one set of signals controlling all traffic on Ajo Way and ramps to and from I-19. This design enhances safety and is more efficient than traditional interchanges because drivers move through just one set of traffic signals.
Other phase one improvements include a wider Irvington Road exit lane, noise walls from Ajo Way south to Irvington, a wider Ajo Way east of I-19, a repaved Elizabeth Drive and a reconstructed Lamar Avenue.