After one year, online veterans' specialty plate sales show savings
2017 introduction results in more time for customers and MVD staff
February 26, 2018
PHOENIX –Online sales for veterans' specialty license plates have proven to save a lot of time for both veterans and Arizona Department of Transportation Motor Vehicle Division employees since the convenient service launched in January 2017.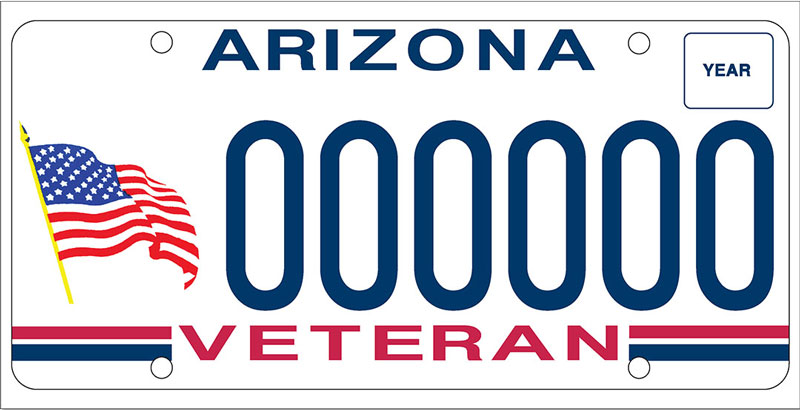 Previously, veterans' specialty plates had to be ordered in person at an MVD or Authorized Third Party office because veterans must provide paperwork authenticating their service in the U.S. military. With the advent of new security and other technical measures, that process has been available on ServiceArizona.com for just over a year.
Because of the addition of digital access, more than 6,200 veterans' plates have been issued online saving approximately 2,600 hours of customer visit time and 1,000 hours of employee processing time.
"The veterans' plates not only honor veterans and their families, but also boost Arizona's economy," said Air Force Col. (Ret.) Wanda Wright, Arizona Department of Veterans' Services Director. "In 2017, the funds from the license plates went to non-profits statewide that support veteran needs and events, which impact our local communities."
"The veterans' specialty plate is a great resource for Arizona," said MVD Stakeholder Relations Manager Jennifer Bowser-Richards. "Making these available for sale online allows more veterans and their families to order these very popular plates and to do it on their schedule without coming to a physical location. It's another way MVD honors those who have served and gets Arizonans out of line and safely on the road."
For more information: www.ServiceArizona.com.