Ahwatukee waterline to be relocated for South Mountain Freeway
Liberty Lane restricted to eastbound traffic only through June 2018
February 20, 2018
PHOENIX – Beginning the week of Feb. 26, work will start on relocating a city of Phoenix waterline located within the footprint of Loop 202 South Mountain Freeway construction in Ahwatukee.
A new 48-inch wide pipe approximately 6,700 feet long will be installed along Liberty Lane between Desert Foothills Parkway and 24th Street.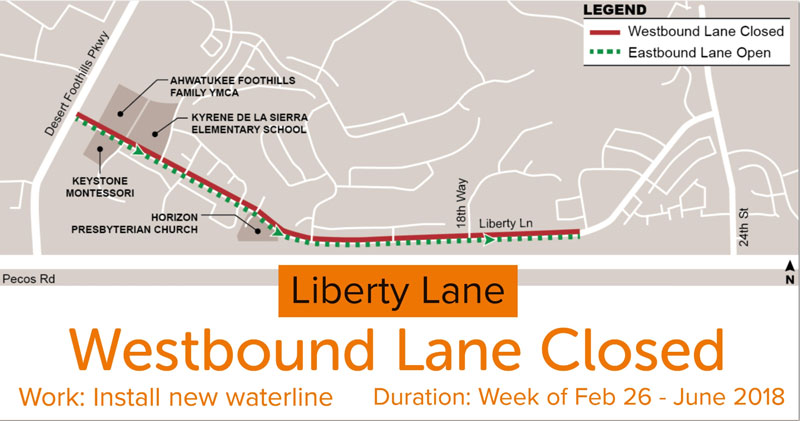 This work will require limiting Liberty Lane traffic to one-way traffic until June. Eastbound traffic will be maintained, but the westbound and center lanes will be closed to complete the waterline relocation, which will require digging several trenches.
The Arizona Department of Transportation and city of Phoenix are working with Connect 202 Partners, developer of the South Mountain Freeway, to ensure access will be maintained to schools, gyms, churches and local streets along Liberty Lane. Additionally, they are working to ensure water service is maintained. In the event temporary water shut-offs are needed, residents and businesses will be notified in advance.
Connecting the new water main to existing water mains along Desert Foothills Parkway and 24th Street will require those mains to be temporarily out of service. In order to meet the demands of higher water use during the summer months, these connections need to be in place by June.
Regular work hours will occur from 7 a.m. to 7 p.m. Monday through Saturday until May 1 and then 6 a.m. to 7 p.m. after May 1, although weekend and overnight work may be necessary. The speed limit will be reduced to 25 mph through the work zone.
This is one of several waterline relocations needed to construct the 22-mile freeway.
The South Mountain Freeway will provide a long-planned direct link between the East Valley and West Valley and a much-needed alternative to Interstate 10 through downtown Phoenix. Approved by Maricopa County voters in 1985 and again in 2004 as part of a comprehensive regional transportation plan, the South Mountain Freeway will complete the Loop 202 and Loop 101 freeway system in the Valley.
ADOT works to inform the public about planned highway restrictions, but unscheduled closures or restrictions may occur. Weather can also affect a project schedule. To stay up to date with the latest highway conditions around the state, visit ADOT's Arizona Traveler Information site at az511.gov or call 511.
For more information, visit SouthMountainFreeway.com.