Ahwatukee waterline relocation progressing for South Mountain Freeway
Liberty Lane two-way traffic being restored in stages
September 4, 2018
PHOENIX – Crews will begin restoring two-way traffic to Liberty Lane in Ahwatukee after several months of work to relocate a 4-foot-diameter waterline from the path of the Loop 202 South Mountain Freeway.
Liberty Lane has been restricted to eastbound traffic on a stretch of about 1.3 miles between Desert Foothills Parkway and west of 20th Way, to provide a safe work zone for the excavation that began in March.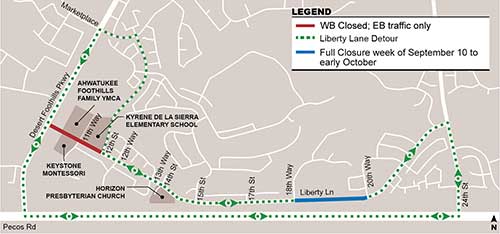 Starting the week of Sept. 10, two-way traffic will be restored in stages using a temporary configuration. This work will begin between 12th Street and 18th Way, about three-quarters of the stretch that currently is limited to eastbound traffic.
Once two-way traffic is restored in this section, Liberty Lane between 18th Way and 20th Way will close for approximately three weeks to complete a connection with a city of Phoenix water main.
The remainder of Liberty Lane, from 12th Street west to Desert Foothills Parkway, is scheduled to return to two-way traffic by the end of the year.
Once the waterline is installed, water and pressure testing will be conducted from mid-November to the end of December. Final resurfacing and lane striping are scheduled to be completed early next year, along with replacement of sidewalks, curbs and gutters.
While this work was initially scheduled to end in June, Connect 202 Partners, the developer of the South Mountain Freeway, experienced a delay when pipe delivery took several weeks longer than anticipated and installation couldn't begin until May. Due to higher water demand in the summer, there was a June cutoff for relocating the waterline, and Connect 202 Partners is now scheduled to complete the work in the fall.
Approximately 5,500 feet of the 6,700-foot pipe has been placed along Liberty Lane between Desert Foothills Parkway and 20th Way at approximately 15 to 25 feet deep, depending on the overall grade and the need to avoid underground utilities.
Dealing with the hardness of rock and a large concentration of underground utilities near Desert Foothills Parkway has slowed work recently. Special drilling equipment has been used to help break up the rock so workers can excavate a trench for the waterline.
For more information, visit SouthMountainFreeway.com.