Another section of South Mountain Freeway opens to local traffic
Southbound 59th Avenue frontage road opens to traffic in west Phoenix
March 18, 2019
PHOENIX – Good news for motorists who rely on 59th Avenue: A section of Loop 202 South Mountain Freeway frontage road is complete and accommodating two-way traffic between Van Buren Street and Buckeye Road in west Phoenix, according to the Arizona Department of Transportation.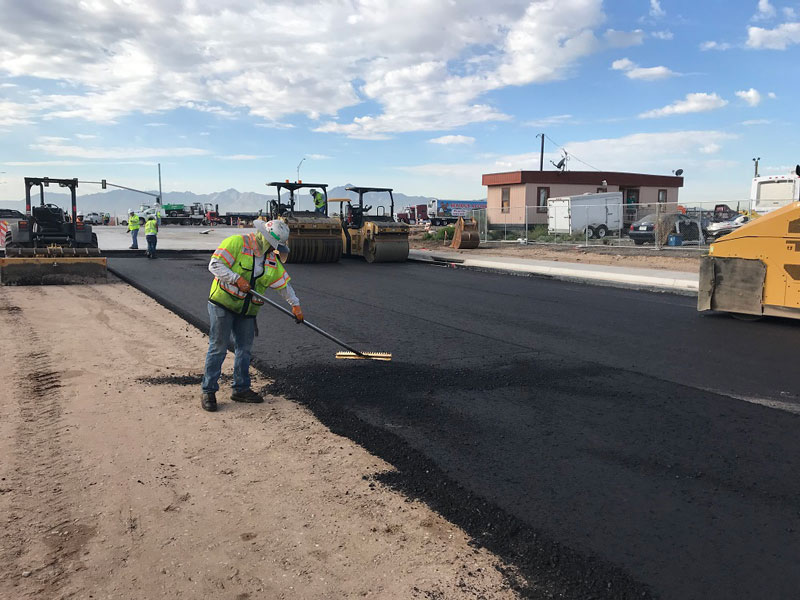 This restores access to 59th Avenue after a two-month closure, with traffic temporarily using a newly paved southbound frontage road with one lane in each direction. Construction of the northbound frontage road will occur later this year.
The mile-long section of 59th Avenue had been closed since mid-January to allow crews with Connect 202 Partners, the developer of the South Mountain Freeway, to demolish and remove the old pavement to make room for the frontage roads.
During the closure, crews also installed underground utilities, built retaining walls and completed a South Mountain Freeway bridge over the Union Pacific Railroad tracks.
This is the area's second stretch of new road to open to local traffic. Last year, ADOT and Connect 202 Partners opened I-10 access roads in both directions between 51st and 67th avenues to improve traffic flow and connect with 59th Avenue.
In Ahwatukee, local traffic is using the future eastbound lanes of the Loop 202 between 17th Avenue and Desert Foothills Parkway as part of a traffic shift that started in February.
The South Mountain Freeway project includes 2.5-mile frontage roads to maintain northbound and southbound access to businesses and residences between Roosevelt Street and Lower Buckeye Road. These one-way frontage roads will have two travel lanes in each direction and will have traffic signals at each major intersection.
During construction, motorists should slow down, obey the speed limit and allow extra travel time.
The 22-mile South Mountain Freeway is scheduled for full completion in 2020, although traffic is expected to be using the freeway earlier. It will provide a long-planned direct link between the East Valley and West Valley and a much-needed alternative to I-10 through downtown Phoenix. Approved by Maricopa County voters in 1985 and again in 2004 as part of a comprehensive regional transportation plan, the South Mountain Freeway will complete the Loop 202 and Loop 101 freeway system in the Valley.
You can stay informed about the South Mountain Freeway project and sign up for updates and weekly traffic alerts at SouthMountainFreeway.com.