Are we there yet? ADOT adds travel times along I-17 to Flagstaff
Program is a first for a state highway outside the Phoenix area
December 13, 2018
PHOENIX – "How long until we get there?"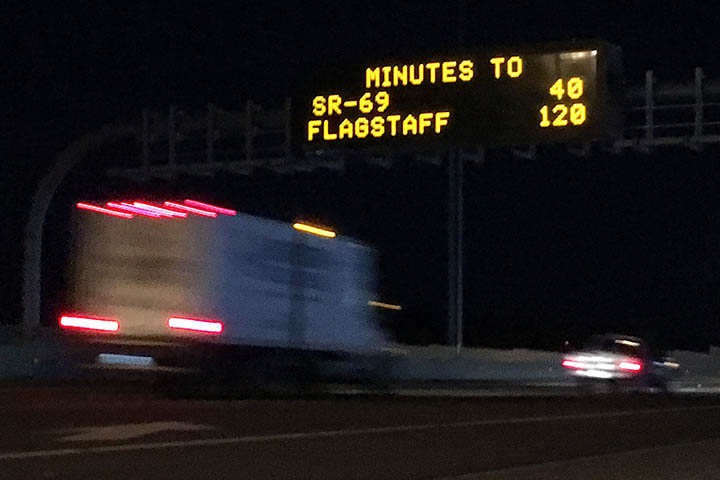 If you're used to hearing those words over and over while driving on Interstate 17 between Phoenix and Flagstaff, the answer is now on the Arizona Department of Transportation's electronic message boards.
As it does along Phoenix-area freeways, ADOT has started posting estimated travel times via I-17 to Cordes Junction, Prescott, Sedona, Flagstaff and other points north of the Valley.
The display of I-17 travel times is a first for a rural section of the state's highway system. For a decade, ADOT's message boards have provided travel times to Valley drivers. Those posted travel times have been a popular feature with commuters.
"One reason we're expanding along I-17 is that winter weather can affect travel times to or from key destinations in northern Arizona," said Brent Cain, who leads ADOT's Transportation Systems Management and Operations division. "Estimated times that reflect highway conditions can assist drivers with their travel plans."
I-17 is one of Arizona's Key Commerce Corridors, serving as the primary route for moving people, goods and services between the Phoenix area and northern Arizona communities.
On a recent morning, with no weather-related delays or backups due to traffic incidents, a message board north of Jomax Road estimated 120 minutes to travel 125 miles to Flagstaff and 40 minutes to travel 43 miles to the State Route 69 interchange in Cordes Junction.
A message board such as the one on northbound I-17 near Sunset Point Rest Area can tell those heading to Sedona whether State Route 260 or State Route 179 is the most efficient route. Southbound I-17 message boards can tell drivers whether State Route 169 or State Route 69 is the better option to Prescott.
While travel times posted in the Valley come from ADOT's in-pavement traffic-flow sensors, the new I-17 travel times draw on real-time traffic data from INRIX, a mobility analytics company that helps transportation agencies monitor, measure and manage traffic information. ADOT designed a software application to automatically process this data for I-17, something that can eventually be used on other busy routes.
"Using data from the marketplace allows us to expand our ability to support informed and safe travel around the state," Cain said.