For Arizona Highways, a great photo is worth $3 million
Sales of specialty license plate help fund iconic magazine
April 3, 2018
PHOENIX – The iconic Arizona Highways magazine is known as much for its award-winning photographs of Arizona's beautiful landscape as for its stories of Arizona history and landmarks. One of those special photographs – by Pulitzer Prize-winning photographer Jack Dykinga – also gets credit for a popular specialty license plate that has raised more than $3 million to help fund the magazine.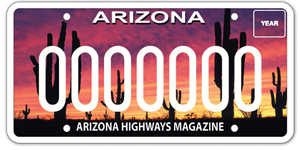 The license plate carries a photograph of a sunset at Saguaro National Park west of Tucson. Nearly 182,000 Arizona drivers have purchased the plate since its introduction in 2009.
"We needed a distinctive image to set the plate apart," said Win Holden, publisher of Arizona Highways, which is produced by the Arizona Department of Transportation. "The simple beauty of this plate is what has drawn so many people to it. It's a great billboard for our state and for our magazine."
The dramatic license plate even has attracted the interest of drivers who aren't familiar with the magazine. When Editor Robert Stieve approached a woman at a mall to thank her for supporting the magazine, she told him she only bought the license plate for its beauty and because it complemented the color of her car.
License plate sales, along with income from subscriptions, calendars and books, help fund the magazine, which doesn't receive money from the state budget. Much of the money raised through license plate sales is used for marketing and circulation programs.
Sales of the license plate have increased each year since it was introduced nine years ago. Fiscal year 2017, which ended last July, saw a record 29,680 plates sold, raising $504,560. This fiscal year, sales are on pace for more than 30,000 plates and more than $514,000 in revenue.
Arizona Highways began as a simple newsletter in 1921 and became a magazine in April 1925. From the beginning, it contained travel stories and scenic photographs. In the early years the photos were black-and-white, and the magazine contained page after page detailing the Arizona Highway Department's (now the Arizona Department of Transportation's) road-building projects. Editors added cartoons to liven up those pages.
Arizona was one of several states to develop a magazine to entice drivers to explore their newly developed roads. Of these magazines, none dates as far back or has featured the iconic photography that has made Arizona Highways a national treasure.
Dykinga worked as a photographer for the Chicago Tribune and Chicago Sun-Times before moving to Tucson, where he was a photographer for the Arizona Daily Star until 1985. His photos have appeared in Arizona Highways, National Geographic and other publications.
For more information on Arizona Highways, please visit ArizonaHighways.com.