Bell Road/US 60 Update: Grand Avenue traffic switch in place
Two-way traffic now sharing new westbound US 60 lanes in work zone
July 29, 2016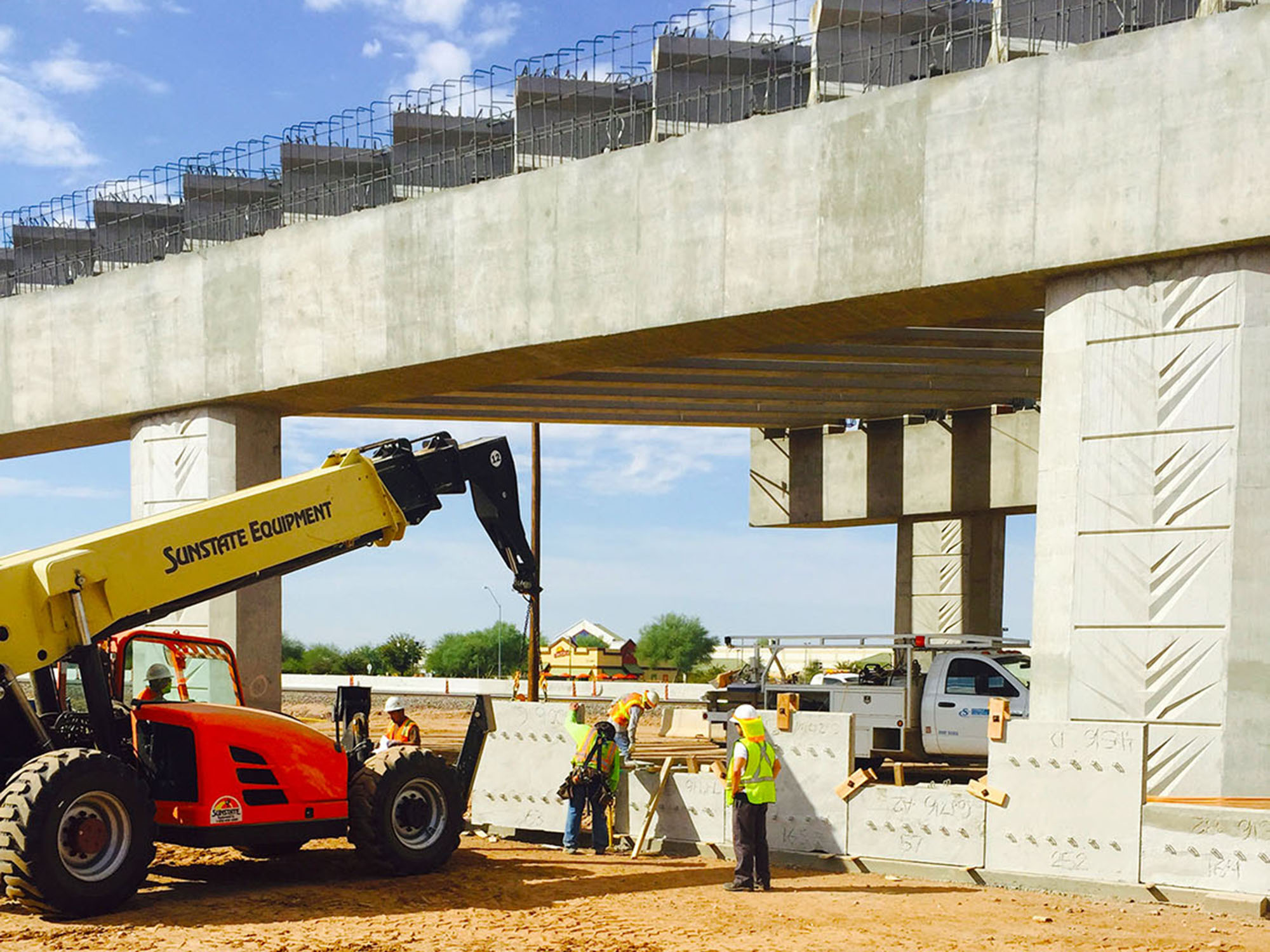 SURPRISE – Grand Avenue (US 60) traffic has been switched to newly constructed westbound lanes at Bell Road in the latest milestone for an Arizona Department of Transportation project connecting the roadways with an overpass and interchange.
Crews worked overnight this week to move Grand Avenue traffic from the eastbound side of the road to the new westbound lanes between Dysart and Litchfield roads. Two-way traffic on Grand will share the westbound lanes while work advances on the Bell Road overpass and on improved eastbound US 60 lanes.
Now that the traffic switch is in place, access in and out of shopping center parking lots along Grand Avenue will occur via Towne Center Drive and Bell Grande Drive. Driveways being added in that stretch will open upon completion of the new eastbound Grand Avenue lanes.
Work to construct the deck of the Bell Road overpass is underway. All of the 89 concrete girders that are part of the bridge are in place.
Eastbound Grand Avenue is scheduled to be closed between Litchfield and Dysart roads from 10 p.m. Monday to 5 a.m. Tuesday, Aug. 2 and from 10 p.m. Tuesday to 5 a.m. Wednesday, Aug. 3, for bridge work. Eastbound traffic will detour along Litchfield, Greenway and Dysart roads during the overnight closures.
The recently opened 134th Avenue connection north of Bell Road and west of Dysart Road is now an improved way for drivers to access businesses in that area.
Bell Road remains temporarily closed between Dysart and Litchfield roads to reduce the project's length and lessen the overall impact of construction. Access to nearby businesses will be maintained throughout the project.
Bell Road is scheduled to reopen to traffic by November, while the entire interchange project is set for completion by spring 2017.
The primary detour routes while Bell Road is closed are Dysart, Greenway and Litchfield roads. Drivers should observe signs and speed limits. Law enforcement officers are patrolling the area.