Bridge foundations for South Mountain Freeway start to take shape
Early construction includes drilling shafts for bridge piers in Ahwatukee and Laveen
February 15, 2017
PHOENIX – The work may not scream "bridge construction" just yet, but that's exactly what's starting at several sites along the 22-mile-long South Mountain Freeway corridor.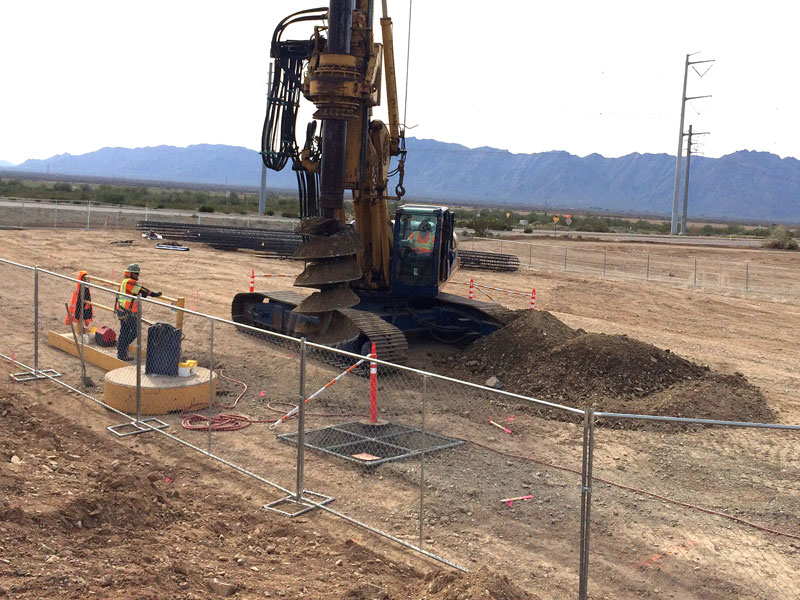 Crews from Connect 202 Partners, developer of the South Mountain Freeway project, are constructing foundations for bridges at future Loop 202 interchanges with 17th Avenue, 24th Street and 40th Street along the freeway segment following Pecos Road and where the freeway will cross the Salt River south of Broadway Road in Laveen.
These are the first of 40 bridges planned along the freeway's path.
This initial work is creating bridge piers, starting with equipment standing more than 40 feet high drilling shafts at the sites. Next, rebar cages are lifted with a crane and securely planted in the shafts. At a later date, concrete will be added to complete the bridge piers.
Prior to the start of bridge construction, grading work provided a level surface at the sites. This work recently wrapped up at 40th Street in advance of starting on bridge piers there.
Most of this initial bridge work doesn't require traffic restrictions, although sidewalks and bike lanes may be restricted in some areas to ensure a safe work zone.
The South Mountain Freeway will provide a long-planned direct link between the East Valley and West Valley and a much-needed alternative to Interstate 10 through downtown Phoenix. Approved by Maricopa County voters in 1985 and again in 2004 as part of a comprehensive regional transportation plan, the South Mountain Freeway will complete the Loop 202 and Loop 101 freeway system in the Valley.
For more information, visit SouthMountainFreeway.com.