Businesses invited to sponsor ADOT 511 travel information signs
Unique branding opportunity along Arizona freeways
May 13, 2019
PHOENIX ‒ For nearly a decade, Arizona businesses have been reaching potential customers by placing their logos on blue signs located along freeways near their locations.
A new program from the Arizona Department of Transportation will offer a unique branding opportunity for qualifying companies while promoting and creating awareness of the 511 Arizona Traveler Information program.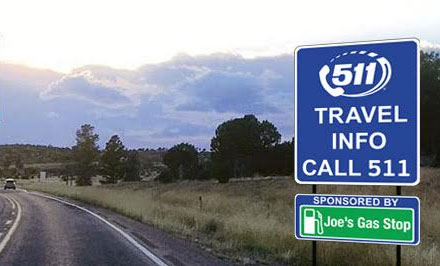 Under the 511 Logo Signs program, businesses will be able to sponsor informational signs that remind drivers to call 511 for travel information. A horizontal sign listing the name of the sponsoring business will be attached at the bottom of the 511 sign.
"This new program provides a unique opportunity for Arizona companies to gain exposure 24 hours a day along our state's highways," said Kelly Mero, chief executive officer of ADOT's Grand Canyon State Logo Signs. "With just one sponsoring business on each sign, 511 Logo Signs will increase brand awareness and enhance the image of sponsoring companies."
Business categories eligible to take part in the program include food, gas, lodging, camping, attractions and 24-hour pharmacies. Sponsor signs will be 60 inches wide by 18 inches high, easily visible to passing drivers.
The cost for the 12-month program is $4,325, paid in advance, for the first year, which equates to about $360 per month. The package includes a one-year lease, fabrication and installation. A business can choose any available location for its sign, not just locations nearby.
Proceeds from the signs will go to the Arizona State Highway Fund, which pays for highway maintenance and repairs around Arizona.
Signs will be located primarily in the greater Phoenix and Tucson areas, and additional markets will be announced in the near future. Business owners are invited to contact program representatives at 855.712.4500 to discuss their needs and potential signage solutions. Interested business owners can learn more about the program at 511LogoSigns.az.gov.
To see ADOT's newly redesigned Arizona Traveler Information website, please visit az511.gov.