Dobbins Road west of 59th Ave. closing for South Mountain Freeway work
Traffic to detour to Baseline/Elliot roads through April 2019
October 24, 2018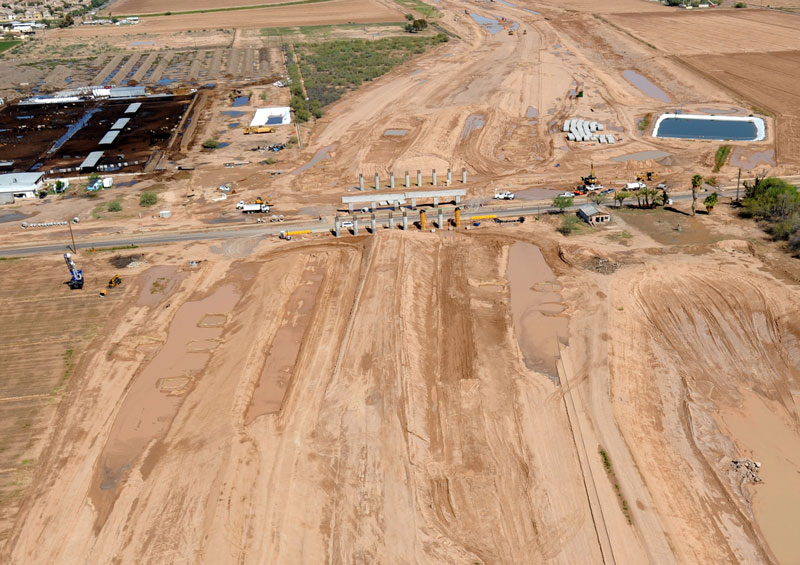 PHOENIX – Motorists in the Laveen area should plan ahead with Dobbins Road closing Monday, Oct. 29, from west of 59th Avenue to 75th Avenue for construction of a Loop 202 South Mountain Freeway interchange.
Traffic can detour on Baseline and Elliot roads.
The closure, which runs through April 2019, will allow crews to accelerate construction of one of 13 interchanges planned for the South Mountain Freeway.
Similar extended closures have enabled crews to expedite interchange work at Elliot Road and Estrella Drive along the 22-mile freeway corridor. Elliot Road reopened in April. Construction of the Estrella Drive interchange, which has required a closure west of 51st Avenue since mid-May, is nearly complete and the closure will be lifted soon.
In order to build the Dobbins Road traffic interchange, construction crews will complete the following work during the closure: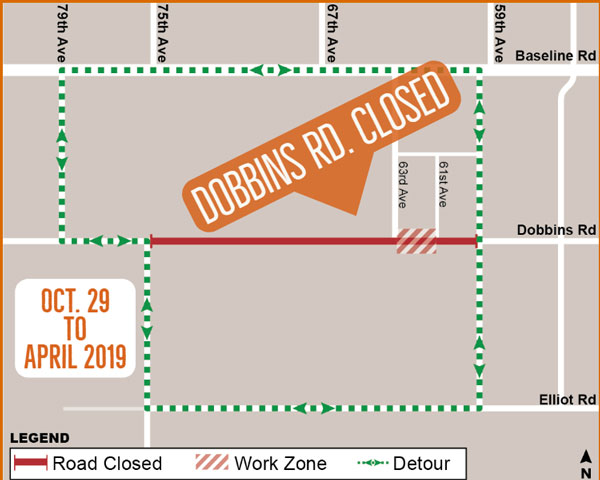 Build a two-span, 215-foot-long freeway bridge over Dobbins Road
Construct retaining walls, underground utilities and drainage structures
Build and pave connecting on- and-off ramps
Repave Dobbins Road through the construction zone
Crews already have relocated utilities and drilled shafts for bridge supports.
The South Mountain Freeway, which is slated to open as early as late 2019, will provide a long-planned direct link between the East Valley and West Valley and a much-needed alternative to I-10 through downtown Phoenix. Approved by Maricopa County voters in 1985 and again in 2004 as part of a comprehensive regional transportation plan, the South Mountain Freeway will complete the Loop 202 and Loop 101 freeway system in the Valley.
For more information on the South Mountain Freeway, visit SouthMountainFreeway.com.