Eastbound I-10 traffic switching to new lanes this weekend
New Santa Cruz River bridge also to start taking traffic
December 12, 2017
MARANA – Drivers heading from northwest Pima County toward downtown Tucson will start using new eastbound lanes of Interstate 10 at Ina Road this weekend.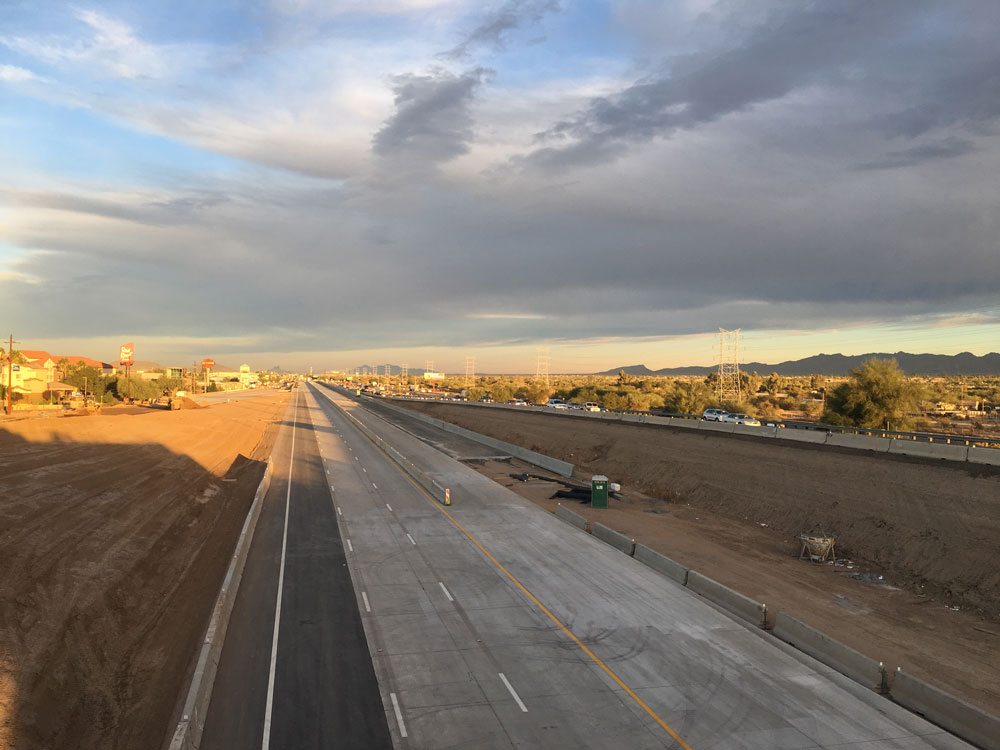 Beginning Saturday night, Dec. 16, Arizona Department of Transportation crews will begin moving eastbound traffic to the new lanes of I-10 as part of a two-year project to improve both I-10 and Ina Road. The work is expected to be complete the morning of Sunday, Dec. 17.
Also on Sunday, about one mile west of the freeway, Ina Road traffic will switch to a new bridge over the Santa Cruz River. This bridge will carry one lane of traffic in each direction while the old bridge is removed and a second new bridge is built in its place.
The I-10/Ina Road interchange project, which remains on schedule approaching the halfway point, will add a lane in each direction to both I-10 and Ina Road and includes a bridge to carry Ina Road traffic over I-10 and the Union Pacific Railroad tracks. The improvements will allow traffic to move more smoothly through the area while enhancing safety.
Westbound I-10 traffic will switch to the new eastbound pavement in mid- to late January. ADOT will maintain three lanes of traffic in each direction until the project is completed in early 2019. When the work is complete, I-10 will have four lanes in each direction, Ina Road two lanes in each direction, and there will be two bridges over the Santa Cruz River, each carrying two lanes of traffic.
ADOT is overseeing the $128 million project, which is funded by the Federal Highway Administration, the Pima Association of Governments and the Regional Transportation Authority. The town of Marana is contributing $7.9 million toward the cost of the new bridges over the Santa Cruz River west of I-10.
For more information on the project, visit azdot.gov/InaTI.