Engineers Week highlights people, projects that keep Arizona moving
More than 100 highway projects underway around the state
February 23, 2016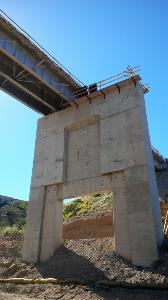 PHOENIX – Whether it's adding travel lanes to relieve congestion on a Phoenix-area freeway, building a new interstate bridge outside Tucson or reconstructing a landslide-damaged northern Arizona highway, engineers stamp their mark on the state's transportation system each and every day.
With National Engineers Week at hand, the vision and handiwork of the Arizona Department of Transportation's professional engineers shows in more than 100 highway improvement projects underway around the state at any given time. That's in addition to dozens of local roadway projects ADOT develops in partnership with Arizona communities.
"Engineers are on the front lines of meeting the goals Governor Ducey has set for Arizona," ADOT Director John Halikowski said. "Whether boosting the economy, making Arizona safer or improving the overall quality of life, our 21st-century engineers must be relationship builders, team players and partners in working with many diverse people and organizations to deliver the transportation systems of today and tomorrow."
"The challenges are large and the days are often long, but an engineer's job includes the reward of seeing improvements that save travel time and bolster highway safety," said Dallas Hammit, ADOT's state engineer and deputy director for transportation. "We know people appreciate these advances, and we want to take time to thank our staff of engineers for their contributions."
ADOT is nearing completion of a $109 million widening project along a 20-mile stretch of the Loop 202 Red Mountain Freeway between Loop 101 and Broadway Road in Mesa. The project, which has added new freeway lanes as well as other features such as overhead message signs and closed-circuit traffic cameras, presented its share of challenges.
"It's never easy to manage construction while also working to keep existing lanes open as much as possible," said District Engineer Madhu Reddy of ADOT's Central Construction District. "Our project team worked with the community to limit restrictions while adding the new lanes. That's also part of the role of the engineer."
When a 2013 landslide severely damaged US 89 south of Page, ADOT engineers mobilized to get the closed highway realigned, repaired and reopened as soon as possible, while also quickly paving a temporary route to Page in collaboration with the Navajo Nation. US 89 reopened last year following an accelerated reconstruction project.
Audra Merrick, district engineer for ADOT's North Central District, called the US 89 project an enormous engineering feat.
"We had to remove about a million cubic yards of rock from the area, but our success was even more dependent on maintaining communication at all levels," said Merrick, one of 34 women currently serving among ADOT's 250 professional engineers. "Engineering goes beyond drawings on a plan sheet. I can't say enough about the teamwork involved in re-establishing the primary highway between Flagstaff and Page."
One of ADOT's largest southern Arizona projects is upgrading 17 miles of Interstate 10 pavement between Tucson and Benson while also replacing a large bridge crossing Davidson Canyon, approximately 20 miles east of downtown Tucson.
"Our engineering staff had to take heavier interstate traffic, including commercial trucks, into account when designing and building what we call the Quad Project," said Rod Lane, ADOT's district engineer for the agency's South Central District. "It's actually four separate projects being delivered as one. The engineering and planning include working in stages and scheduling shifts in traffic when needed. We're looking forward to completing a modern, even safer Davidson Canyon bridge for generations to come."
The $15.1 million Quad Project is scheduled for completion this summer.
Halikowski said National Engineers Week provides a great opportunity to highlight how engineers are working to advance Arizona's transportation network.
"Governor Ducey wants us to 'think big,' and our engineers will work across all disciplines to bring innovative ideas to reality," Halikowski said.
# # #
About National Engineers Week: Started by the National Society of Professional Engineers in 1951, National Engineers Week (Feb. 21-27) is marked in February each year to call attention to the contributions of engineers while emphasizing the importance of math, science and technical skills. See more at DiscoverE.org.