Field work to begin on I-10 widening, dust detection project near Picacho
Safety project will make 4 miles three lanes, create new SR 87 interchange
December 5, 2017
PICACHO – Crews will begin clearing ground near Interstate 10 south of Eloy this week as the Arizona Department of Transportation takes the first step in a project that will realign and widen 4 miles to three lanes in each direction.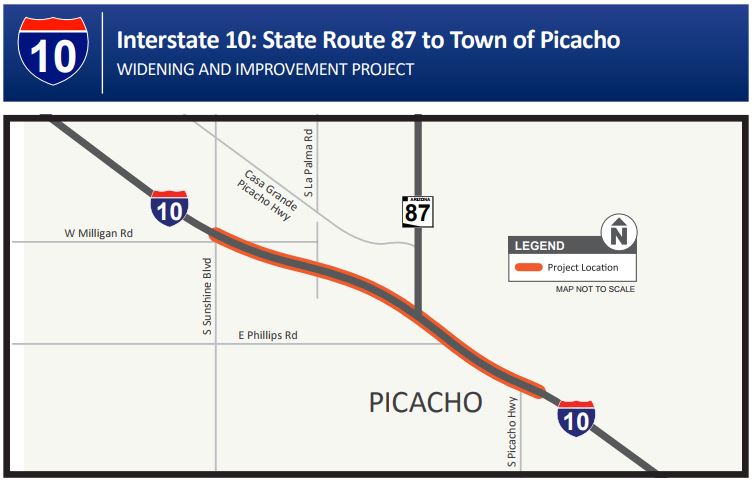 The project also will create a first-in-in-the-nation pilot dust detection and warning zone designed to alert drivers to dangerous conditions in an area prone to blowing dust.

"This project includes two elements that will enhance safety for those using this busy section of Interstate 10," ADOT Director John Halikowski said. "The innovative dust detection project will provide drivers with fast information when conditions warrant. Adding a lane in each direction of I-10 will allow traffic to move more smoothly in this Key Commerce Corridor."

The project includes widening I-10 from milepost 209 to 213, realigning the freeway to remove an "S" curve and building a new interchange with State Route 87. The clearing that starts this week is for work that will shift I-10 to a straighter path about 500 feet north of its current alignment.

The work is funded in part by a $54 million federal FASTLANE grant, which also will help pay for a second I-10 widening project on 4 miles north of Interstate 8. Bids for the second widening project are expected to be opened on Friday, Dec. 8. When both are complete, I-10 will be three lanes in each direction between Casa Grande and the Tucson area.

Coffman Specialties won a $58.4 million contract for the first project, which is expected to be completed in fall 2019.

The dust detection zone planned between mileposts 209 and 219 will combine a number of existing technologies, including:
* Two types of radar to detect blowing dust along the freeway and in the distance approaching I-10. Short-range detectors will be located every mile, as well as at half-mile increments in the center of the area. The long-range detector will be located at the north end of the area, away from Newman and Picacho peaks.

* Variable speed limits to slow drivers. Speed limits, which are enforceable, will slow drivers from 75 mph to 35 mph, dropping 10 mph for each 1,000 feet to allow drivers time to safely reduce their speed.

* Closed-circuit freeway cameras so ADOT traffic operators in Phoenix can view the situation in real time.

* Electronic message boards to relay information about conditions.

Dust storms, most common during the summer monsoons, can occur year-round in desert areas. Localized winds can create dust channels that severely reduce visibility in a small area.