Final I-10 access road stretch opens as South Mountain Freeway progresses
New roadway part of Loop 202/I-10 interchange construction in West Valley
August 6, 2018
PHOENIX – Motorists can now use all of the new Interstate 10 access roads between 51st and 67th avenues as a Loop 202 South Mountain Freeway interchange emerges in west Phoenix.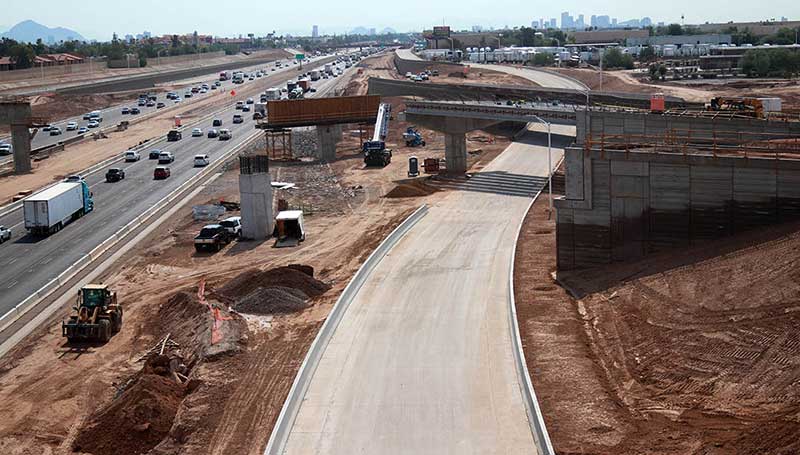 After several months of construction, the final leg of the eastbound I-10 access road between 59th and 51st avenues opened this weekend. The westbound I-10 access road between 51st and 67th avenues and the eastbound I-10 access road between 67th and 59th avenues opened over the past few months.
The 2-mile-long, two-lane roadways restore access to 59th Avenue after South Mountain Freeway construction required permanently removing I-10 on- and off-ramps at 59th Avenue to make room for the freeway-to-freeway interchange.
As part of this work, which began in late January, several I-10 ramps were reconstructed to tie into a wider I-10 that will include connecting ramps to and from the South Mountain Freeway when it opens in late 2019.
The 22-mile South Mountain Freeway will provide a long-planned direct link between the East Valley and West Valley and a much-needed alternative to Interstate 10 through downtown Phoenix. Approved by Maricopa County voters in 1985 and again in 2004 as part of a comprehensive regional transportation plan, it will complete the Loop 202 and Loop 101 freeway system in the Valley.
For more information, visit SouthMountainFreeway.com.