First girders a milestone for South Mountain Freeway interchange at I-10
Longest of five flyover ramps taking shape at 59th Avenue in west Phoenix
October 26, 2017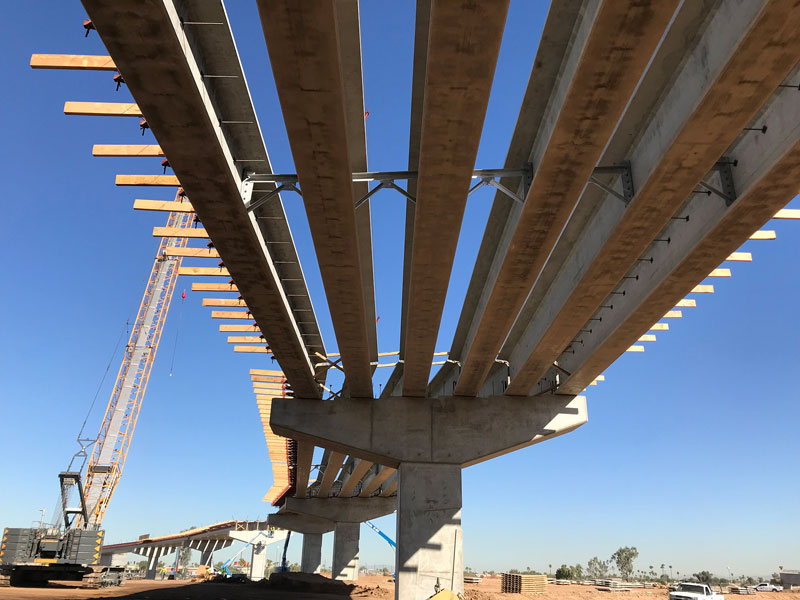 PHOENIX – The skyline is changing almost daily at Interstate 10 and 59th Avenue as an interchange takes shape that will connect with the Loop 202 South Mountain Freeway in west Phoenix.
After work completed last weekend, motorists now see the first girders, more than six stories above I-10, for a flyover ramp that will carry South Mountain Freeway traffic to westbound I-10.
Two large cranes hoisted and placed the concrete girders, each approximately 150,000 pounds and up to 165 feet long, during an overnight closure of eastbound I-10. This 1,565-foot-long bridge will be the longest of five flyover ramps at the interchange, which will allow seamless travel to and from the 22-mile South Mountain Freeway.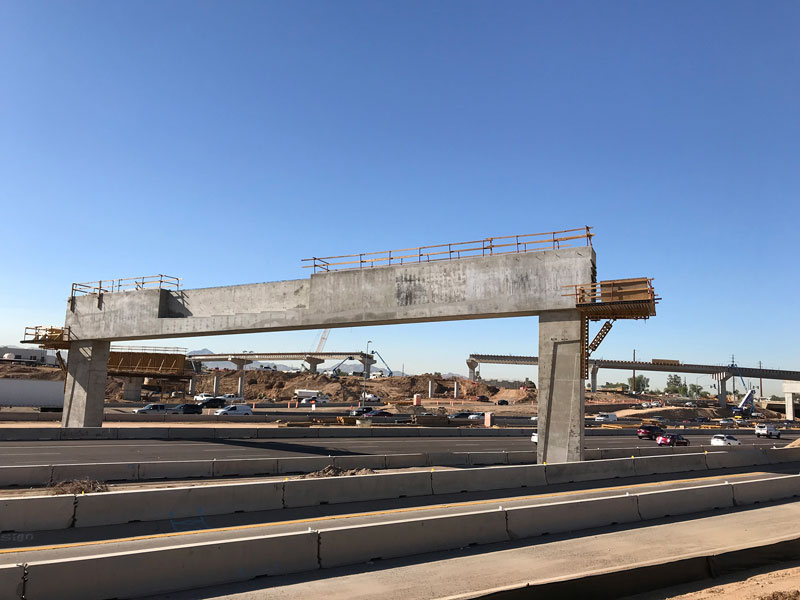 In the last two weeks, crews have placed 36 girders to support a concrete bridge deck that crews are scheduled to pour late this year.
The interchange also will include roadways parallel to I-10 between 51st and 67th avenues that will replace direct freeway access to 59th Avenue and improve traffic flow. New auxiliary lanes will feed I-10 traffic to the interchange, and crews also will resurface I-10, create new drainage structures and build retaining and barrier walls.
The South Mountain Freeway will provide a long-planned direct link between the East Valley and West Valley and a much-needed alternative to I-10 through downtown Phoenix. Approved by Maricopa County voters in 1985 and again in 2004 as part of a comprehensive regional transportation plan, the South Mountain Freeway will complete the Loop 202 and Loop 101 freeway system in the Valley.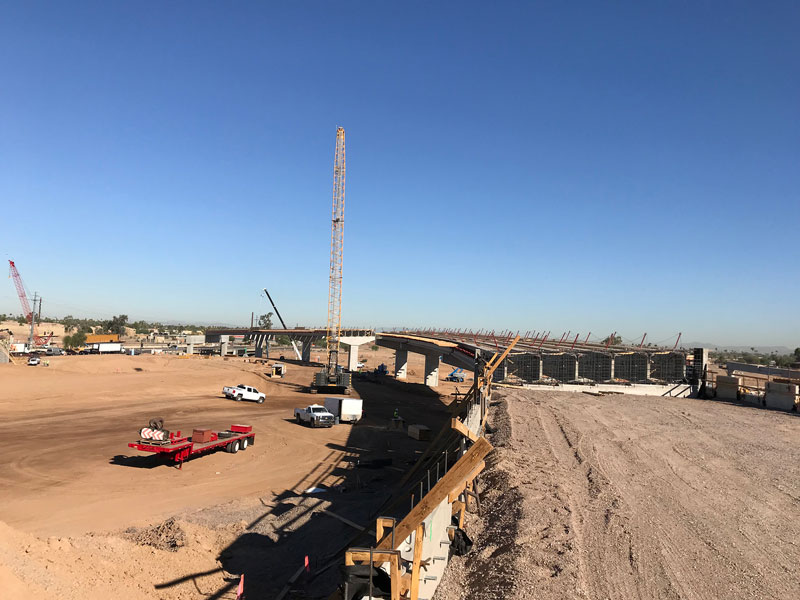 For a YouTube video of the I-10/Loop 202 interchange construction in west Phoenix, please visit: https://youtu.be/tYtBv6onYZw.
For more information on the South Mountain Freeway, visit SouthMountainFreeway.com.