First Pecos Road traffic traveling on future South Mountain Freeway
Motorists should slow down, pay attention while freeway construction continues
February 12, 2019
PHOENIX – In another sign of progress on the Loop 202 South Mountain Freeway, local Ahwatukee traffic is now using a 2-mile stretch of the future freeway between Desert Foothills Parkway and 17th Avenue. To advance construction on this Arizona Department of Transportation project, crews working over the weekend shifted Pecos Road traffic onto the freeway's newly paved eastbound lanes.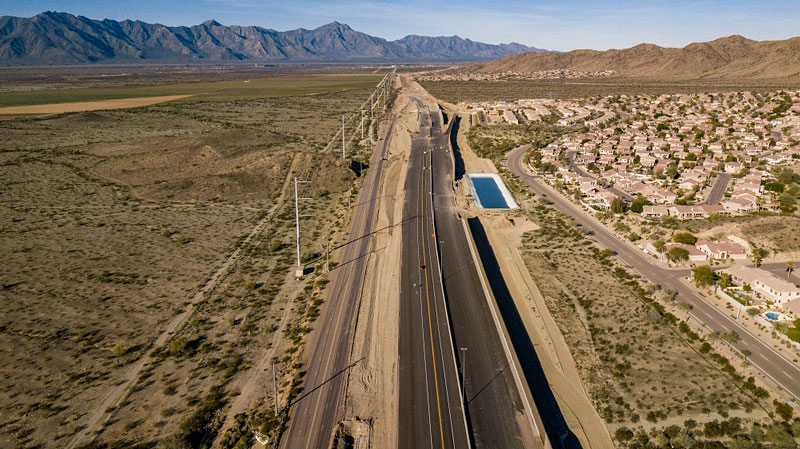 Traffic has been reduced to one lane in each direction, connecting with 17th Avenue using what will become the westbound Loop 202 off-ramp and with Desert Foothills Parkway using the westbound Loop 202 on-ramp.
Even though traffic has moved onto what will be the freeway mainline, motorists need to keep in mind that this interim configuration is not a completed freeway.
Motorists should slow down, pay attention and obey the 40 mph speed limit as well as a reduced speed limit on the connecting ramps.
Construction equipment will be using westbound lanes, and a concrete barrier separates the eastbound and westbound lanes.
In another change for motorists, the Desert Foothills Parkway intersection has been moved temporarily about 1,500 feet to the west so construction can advance on that traffic interchange, the last to be built on the project.
This is the first of several planned shifts onto newly paved lanes that will allow Connect 202 Partners, the developer of the South Mountain Freeway, to advance construction.
The 22-mile South Mountain Freeway is scheduled for full completion in 2020, although traffic is expected to be using the freeway earlier. It will provide a long-planned direct link between the East Valley and West Valley and a much-needed alternative to I-10 through downtown Phoenix. Approved by Maricopa County voters in 1985 and again in 2004 as part of a comprehensive regional transportation plan, the South Mountain Freeway will complete the Loop 202 and Loop 101 freeway system in the Valley.