Flooding, repairs mean delays along Swift Trail on Mount Graham
Damage from 2017 Frye Fire on Mount Graham road
July 24, 2018
PHOENIX – For the second summer, heavy monsoon rain falling on areas of Mount Graham damaged by the 2017 Frye Fire is causing flooding and potential damage to State Route 366 southwest of Safford.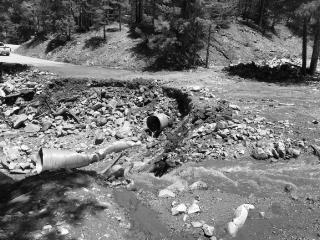 Those using the roadway, also known as Swift Trail, should drive slowly and watch for potential damage along the road, which runs west of US 191 about 20 miles south of Safford. Current conditions are expected to remain through the end of the monsoon, which ends Sept. 30.
The lightning-caused Frye Fire burned more than 48,000 acres on Mount Graham. Some areas along Swift Trail were closed from late July through mid-September in 2017 because of damage to dirt roads caused by monsoon rains.
Swift Trail is an Arizona Scenic Byway that begins at the base of Mount Graham and leads to recreational areas, campgrounds and cabins on the mountain.