Girder placement resumes at Bell Road overpass in Surprise
ADOT review of June 9 accident finds the project's girders are structurally sound
July 5, 2016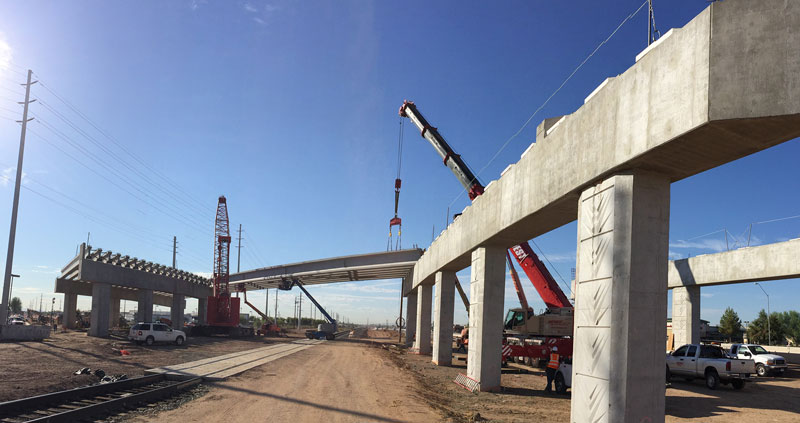 SURPRISE – Work to install girders for a Bell Road overpass at Grand Avenue (US 60) resumed Tuesday.
The installation had been on hold since June 9, when a large, steel-reinforced concrete girder fell moments after it had been lifted into place by cranes. An employee of a contractor working on the project was seriously injured but is recovering.
While the Arizona Department of Transportation and the project contractor have investigated, a precise reason for the accident has not been determined.
The 29 girders in place as of June 9, as well as the remaining girders to be installed, have been found to be structurally sound. A replacement girder was manufactured. ADOT has found no evidence that materials used to manufacture the girder that fell contributed to the accident.
In all, the overpass will have 89 steel-reinforced concrete girders ranging from 67 to 158 feet in length and weighing up to 90,000 pounds each.
The Bell Road overpass construction is part of ADOT's $41.9 million project to construct an interchange to relieve traffic congestion at the busy intersection connecting Bell Road and Grand Avenue. Work has continued on other elements of the project.
The project team plans to complete this stage of girder installation by Sunday, July 10. Grand Avenue will be narrowed to one lane in each direction between Dysart and Litchfield roads from 8 p.m. Thursday, July 7, to 5 a.m. Friday, July 8, and again from 8 p.m. Friday, July 8, to noon Sunday, July 10, when girder placement is taking place on the bridge span closest to the roadway.
Construction of the interchange began in early February. Bell Road was closed to traffic in an area between Dysart and Litchfield roads on April 1 to allow for the accelerated construction of the overpass and limit impacts on local traffic and area businesses. The Bell Road overpass, traveling over both Grand Avenue and the nearby BNSF Railway tracks, is scheduled to open to traffic by November.
The Bell/Grand interchange is being built as a partnership between ADOT, the Federal Highway Administration, the Maricopa Association of Governments and the city of Surprise. The entire project is scheduled for completion by spring 2017.