Hell Canyon bridge replacement to begin this month north of Paulden
ADOT to construct wider bridge while limiting SR 89 traffic impacts during construction
July 7, 2015
PHOENIX — While the Arizona Department of Transportation completed interim repairs to the Hell Canyon Bridge in 2013, the agency moved forward with plans to design a new bridge along State Route 89 in Yavapai County that would ultimately replace the aging and narrow bridge that does not meet today's design standards. Two years later, ADOT will start construction on Tuesday, July 14 on a modernized bridge that will replace the current bridge when completed.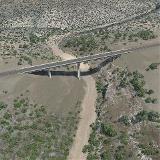 The existing nearly 600-foot-long bridge, which was built in 1954, is located 18 miles north of Chino Valley at milepost 346 and serves as a key connection linking Prescott and northern Arizona (Interstate 40 in Ash Fork).
The $14.4 million improvement project will include constructing a new four-span steel-plate girder bridge to the east of the existing bridge and removing the existing three-span steel deck truss bridge, which has been classified as structurally deficient by bridge inspectors. The current bridge is safe; however, some needed repairs or improvements have been identified during bridge inspections.
The new 665-foot-long two-lane bridge will feature wider travel lanes and will be approximately 47 feet wide, more than 17 feet wider than the current bridge. The bridge will also accommodate heavier loads, ensuring commercial trucks can conveniently carry goods and produce to their final destinations, particularly when I-40 traffic is diverted onto SR 89 during serious crashes.
There will be limited traffic impacts to motorists during construction because traffic will remain on the existing bridge, while work progresses on constructing the new bridge east of the current bridge.
The first phase of the project, which is expected to take up to 12 months to complete, will include construction of the new bridge as well as temporary access roads along the north and south sides of the canyon to assist with bridge construction and removal.
Daytime blasting operations, which will begin at 9 a.m. July 14, will be required for the construction of the access roads and intermittent closures will be necessary during that time. Delays of up to 20 minutes are possible until blasting operations are completed by the end of next month. ADOT will send advance notice to the public when any closure dates are finalized.
After the new bridge is completed, traffic will be switched to the new bridge. The existing Hell Canyon Bridge will then be dismantled and removed, which is expected to take up to three months. Additional road construction/realignment will be necessary to the north and south of the new bridge.