Home stretch for improvements at I-10 and Ina Road in Marana
Modern interchange is on track to open, as scheduled, in six months
September 10, 2018
PHOENIX – As drivers on Interstate 10 pass Ina Road in Marana, they have a clear view of a blank space in the middle of a new bridge that soon will carry Ina Road traffic over I-10 and the Union Pacific Railroad tracks.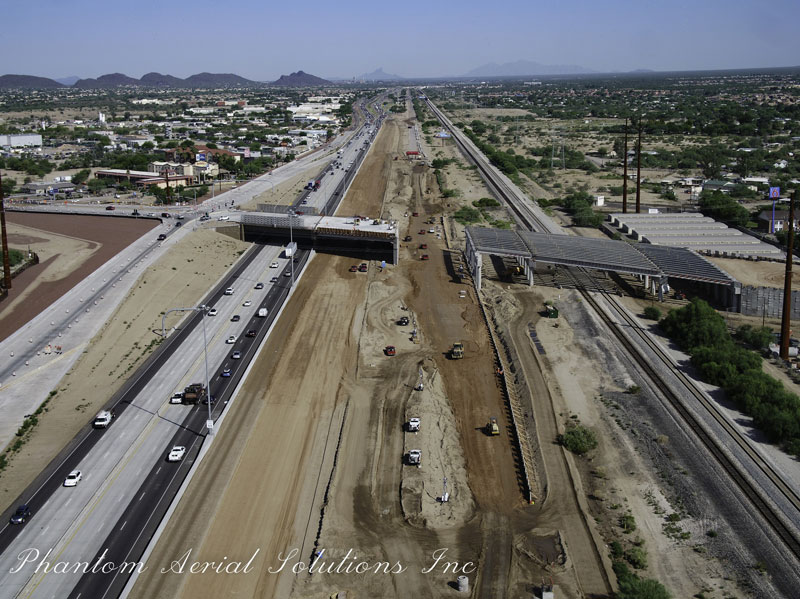 That small space – where the exit and entrance ramps to westbound I-10 will connect with Ina – is the last major piece in a two-year project to improve traffic flow and driver safety in northwest Pima County.
September marks the start of the final six months on a project that began in February 2017, with completion scheduled by early March.
ADOT is overseeing $128 million in improvements, which are funded by the Federal Highway Administration, the Pima Association of Governments and the Regional Transportation Authority. The town of Marana is contributing $7.9 million toward the cost of the new bridges over the Santa Cruz River west of I-10.
Crews are primarily finishing work that has already started, including creating a new westbound Ina Road bridge over the Santa Cruz River. Girders were put in place earlier this summer, and the concrete deck is set to be poured overnight Thursday and Friday, Sept. 13-14. The eastbound bridge at Ina Road will be closed from 10 p.m. to 5 a.m. both nights for the deck pour on the westbound bridge.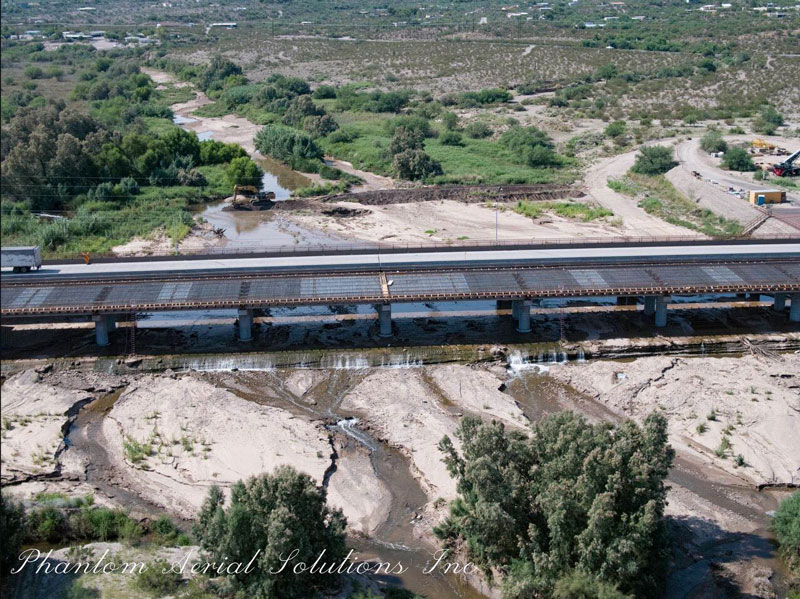 The westbound Ina Road bridge is expected to open to traffic in January. The eastbound Ina Road bridge, opened in late 2017, is temporarily carrying both directions of traffic.
East of I-10, crews are beginning to work on curbs, gutters and sidewalks before paving begins on Ina Road. The bridge over I-10 is scheduled to open in early 2019. About that time, westbound traffic on I-10 will be moved to new lanes that are currently under construction.
Before work began, Ina Road crossed under I-10, and drivers frequently had to stop for passing freight trains. After completion, Ina Road will cross over I-10 and the railroad tracks. Both Ina Road and I-10 will have an additional lane in each direction to accommodate increasing traffic, with Ina Road improvements reaching west across the Santa Cruz River to Silverbell Road.
The improvements are designed to keep pace with growth in the Marana area while reducing congestion on Cortaro Road.
After work is complete at Ina Road, a similar project is scheduled to begin at Ruthrauff Road. That project will include widening I-10 to four lanes, widening Ruthrauff to two lanes in each direction and building a bridge to carry Ruthrauff over I-10 and the Union Pacific Railroad tracks. Ruthrauff will be closed at I-10 throughout the 24-month project.