I-10 bridge rehabilitation project to begin at Pinal Air Park Road
Westbound I-10 access will close in November while bridge deck is replaced
October 22, 2018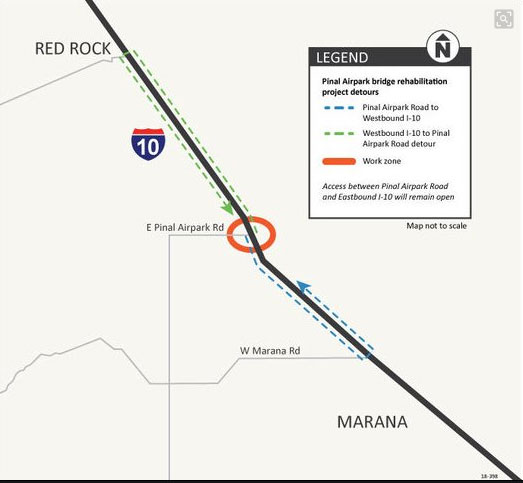 PHOENIX ‒ A six-month project to replace the deck of the bridge over Interstate 10 at Pinal Air Park Road will begin in early November.
Preliminary work on the $1.85 million project will begin Wednesday, Oct. 24. The bridge will close in early November and remain closed for about four months, temporarily shutting down direct access to and from westbound I-10.
In addition to replacing the deck on the bridge, which was built in 1963, Arizona Department of Transportation crews will repair girders under the bridge.
Drivers on westbound I-10 who want to exit at Pinal Air Park Road (exit 232) should continue north to the Red Rock exit (exit 226), then take eastbound I-10 to Pinal Air Park Road. There will be no restrictions on ramps to and from eastbound I-10.
Drivers on Pinal Air Park Road who want to use westbound I-10 will need to take eastbound I-10 to Marana Road (exit 236).
I-10 will be reduced to two lanes in each direction under the bridge during much of the work.