I-10 closures needed to establish safe work zone for future Loop 202 expansion
Crews to restripe existing travel lanes, set concrete barrier during closure
February 9, 2017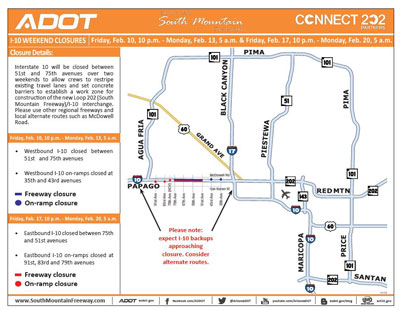 PHOENIX – There is never a good time to close a freeway, particularly one as busy as Interstate 10, but it's absolutely necessary to ensure the safety of the traveling public and construction workers preparing for construction of the Loop 202 South Mountain Freeway interchange at 59th Avenue.
Closing westbound I-10 lanes in the project area over the coming weekend and eastbound lanes over the following weekend will allow the Arizona Department of Transportation and Connect 202 Partners, the developer for the South Mountain Freeway, to widen the median and create a safe zone for the work to come.
A lot of time-intensive work goes into that, starting with placing nearly four miles of temporary concrete barrier on each side of the widened median when westbound I-10 is closed this weekend between 51st and 75th avenues. Next weekend, nearly four miles of temporary concrete barrier will go in along eastbound I-10 (toward downtown Phoenix) between 75th and 51st avenues.
With travel lanes shifting outward to accommodate the wider median, crews also must work around the clock over these two weekends to remove lane striping and restripe lanes.
ADOT selected the weekends of Feb. 10-13 and Feb. 17-20 for these closures, each scheduled to last from 10 p.m. Friday to 5 a.m. Monday, to keep the South Mountain Freeway project moving toward completion by late 2019. The timing also avoids spring training baseball, the NCAA Men's Final Four Basketball Championship and the recent Waste Management Phoenix Open golf tournament.
Work on the interchange won't start right away, but before long crews will begin using this median work zone to remove the cable barrier, add pavement and allow access for utility and bridge-related work, including direct HOV lane access east of 59th Avenue to and from the future Loop 202 South Mountain Freeway toward downtown Phoenix.
In addition to the traffic interchange, improvements for the South Mountain Freeway will include widening I-10 from 43rd to 75th avenues with merge lanes in each direction and adding two-mile-long access roads to improve traffic flow between 51st and 67th avenues. The new access roads will carry two lanes of traffic in each direction parallel to I-10.
The 22-mile South Mountain Freeway will provide a long-planned direct link between the East Valley and West Valley and a much-needed alternative to I-10 through downtown Phoenix. Approved by Maricopa County voters in 1985 and again in 2004 as part of a comprehensive regional transportation plan, the South Mountain Freeway will complete the Loop 202 and Loop 101 freeway system in the Valley.
For more information on the South Mountain Freeway, visit SouthMountainFreeway.com.
Highway conditions are available via ADOT's Traveler Information site at az511.gov or by calling 511.