I-10 ramp closures mark new phase of South Mountain Freeway work
Multiple ramps to close for 30-60 days as interchange takes shape
January 25, 2018
PHOENIX – Changes are in store for motorists in the West Valley as multiple ramps leading to and from Interstate 10 will be permanently closed and reconfigured over the next several months to make room for an interchange connecting to the Loop 202 South Mountain Freeway. This will also require several weekend closures of I-10 until ramp work is completed this fall.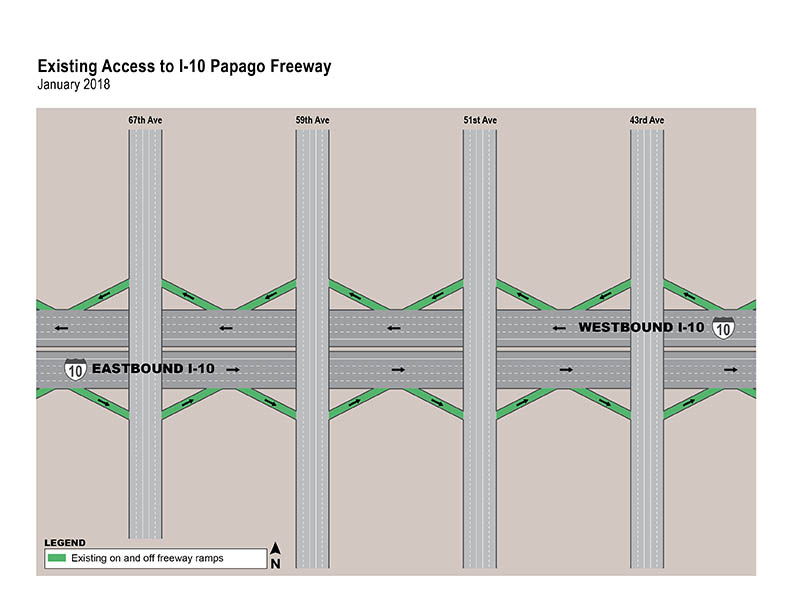 In place of the ramps, the Arizona Department of Transportation and Connect 202 Partners, the developer responsible for building the South Mountain Freeway, will construct new roadways parallel to I-10 providing local access between 51st and 67th avenues that will permanently replace freeway access at 59th Avenue.
The first ramp closure is scheduled for the I-10 westbound off-ramp at 51st Avenue, which will be closed from Saturday, Jan. 27, to Saturday, March 3. In conjunction with this ramp closure, westbound I-10 will be closed between 43rd and 59th avenues from 10 p.m. Friday, Jan. 26, and 5 a.m. Monday, Jan. 29.
The construction of the new access roads, which will be completed over the next nine months, will change how drivers access I-10 between 51st and 67th avenues. Motorists will have dedicated on- and off-ramps at 67th Avenue in addition to the access road.
Motorists wishing to enter or exit the freeway in this area will eventually use these new 2-mile-long roadways to access local streets, similar to the I-10 stretch between 91st and 107th avenues near the Loop 101 junction. For example, a driver on westbound I-10 needing to get off at 59th Avenue will exit at 51st Avenue and travel west on the access road to 59th Avenue.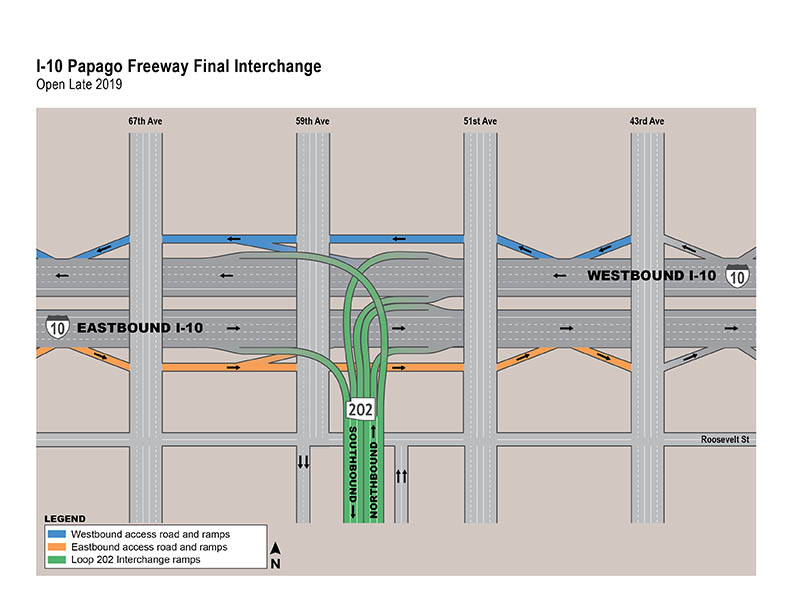 This work will require weekend closures of I-10 as well as long-term and permanent closures of existing on- and off-ramps. During the weekend closures, traffic will be diverted to McDowell Road or Van Buren Street.
The I-10 ramp closures are expected to last approximately 30-60 days for each ramp.
Visit SouthMountainFreeway.com and az511.gov for the latest traffic restrictions. Commuters should allow extra travel time and consider using other routes, use Valley Metro express bus routes or go to SharetheRide.com and look for a carpool or vanpool.
The South Mountain Freeway, which is scheduled to open in late 2019, will provide a long-planned direct link between the East Valley and West Valley and a much-needed alternative to I-10 through downtown Phoenix. Approved by Maricopa County voters in 1985 and again in 2004 as part of a comprehensive regional transportation plan, the South Mountain Freeway will complete the Loop 202 and Loop 101 freeway system in the Valley.