I-10, SR 87 interchange closing temporarily for widening project
New interchange, freeway lanes to open in December
September 27, 2018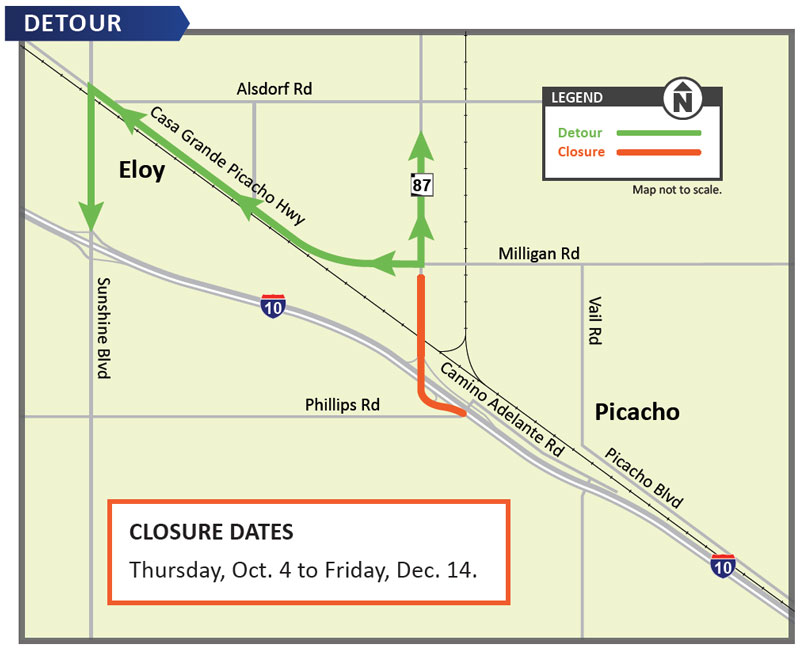 PHOENIX – State Route 87 will close at Interstate 10 in Eloy the first week of October so crews can complete a new interchange and connect SR 87 with the new westbound lanes being constructed for a wider I-10.
By the time the interchange opens in mid-December, drivers in both directions of I-10 will be using the new pavement that eventually will become the new westbound lanes of I-10.
The work is part of a three-part project to widen and realign I-10, build the new interchange and develop a first-of-its-kind dust detection zone. The new alignment will be between mileposts 209 and 213, with the dust detection zone running from milepost 209 to 219.
The closure, which runs from Milligan Road to I-10, is scheduled to begin Thursday, Oct. 4, and continue through Dec. 14. Drivers can use Sunshine Boulevard (exit 208) and Casa Grande-Picacho Highway to connect between I-10 and SR 87.
Before the closure, crews are scheduled to pour concrete to form the decks of bridges that are part of the new interchange.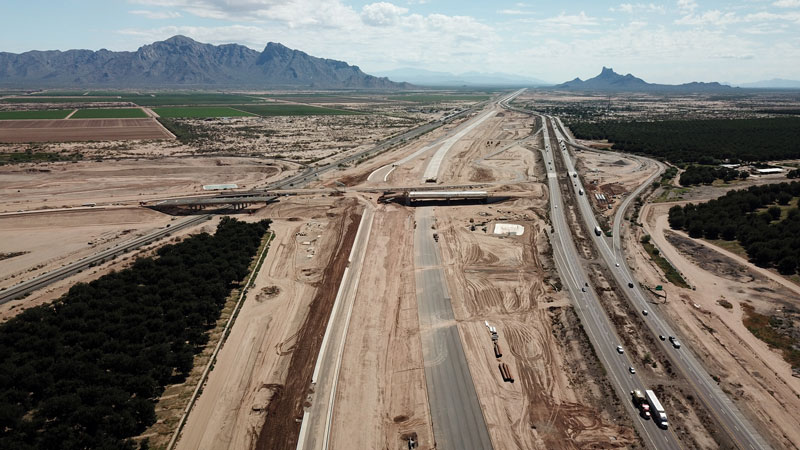 The closure will allow construction crews to complete work on the interchange, including a new alignment of SR 87. Once that work is complete, first westbound traffic and then eastbound drivers will be moved off the current I-10 alignment and onto the new pavement.
In early 2019, workers will build the new eastbound lanes and connect them to I-10. The existing travel lanes on I-10 in the area will be demolished.
The project is about 10 miles from a second effort to widen I-10. In Casa Grande, ADOT is widening I-10 from I-8 to Earley Road (mileposts 196-200) by adding a lane in each direction in the median. When both projects are completed by early fall 2019, I-10 will be a six-lane freeway from the north side of Casa Grande to Tucson.