Ina Road closes at I-10 in Marana for interchange construction
In early 2019, bridge will carry Ina Road over I-10 and railroad tracks
February 15, 2017
MARANA – Ina Road has closed at Interstate 10 to begin 25 months of construction on a modern traffic interchange that will make travel safer and smoother.
I-10 on- and off-ramps at Ina are also closed. Westbound I-10 traffic heading for Orange Grove Road is exiting at Sunset Road and continuing west on the frontage road.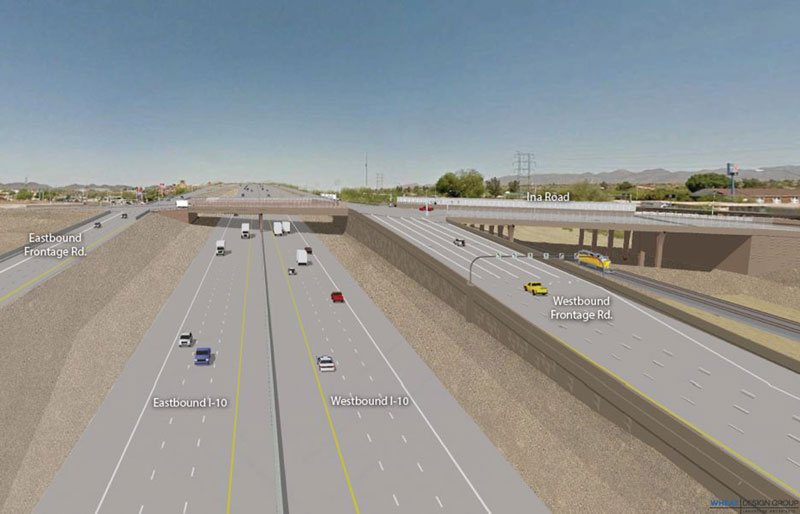 Ina Road remains open east and west of I-10, and the Arizona Department of Transportation will maintain access to all businesses throughout the project.
In early 2019, motorists and area businesses will benefit from a bridge carrying Ina Road over both I-10 and the Union Pacific Railroad tracks, with ramps connecting to I-10.
Preliminary work on the $120 million project began last summer. While ADOT is overseeing construction, the Regional Transportation Authority, which is managed by the Pima Association of Governments, is providing funding for the new interchange. In addition, the town of Marana is providing $25 million for work that will widen Ina Road and reconstruct Ina Road bridges over the Santa Cruz River west of I-10.
During the closure, I-10 will be shifted through the work zone, and drivers who ordinarily would enter and exit I-10 at Ina Road can use Cortaro or Orange Grove roads, among other options.